Alzheimer's Society report reveals thousands of people living alone with dementia feel isolated
10-Apr-13
Article By:
Laura McCardle, News Editor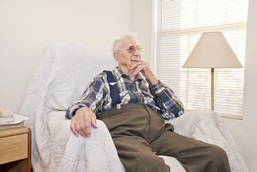 The Alzheimer's Society is urging commissioners to ensure support services are easy to access after research found that the majority of people living alone with dementia feel lonely.
The charity's 'Dementia 2013: The hidden voice of loneliness' report was published yesterday.
It reveals that 62 per cent of more than 250,000 people with dementia who live on their own with dementia feel lonely.
The report also looked at how well people with the condition are living. It found that 70 per cent of people with dementia stopped doing things they used to do before they were diagnosed due to a lack of confidence, while 63 per cent said they felt anxious or depressed. It also found that 35 per cent of people with dementia said they had lost friends as a result of their diagnosis.
One of those living alone with Alzheimer's is a 67-year-old man called Phillip. He said: "Since my diagnosis of Alzheimer's I don't like going out on my own often.
"A recent incident with a rude bus driver left me shaken, confused and upset. He threatened me and drove off without letting me get off the bus. It's set me back and I have been worried about going out ever since.
"Although I have great support from my partner and carer, who visits me each week and calls me every night, I don't have many others to talk to.
"Without Mary and the Alzheimer's Society's support group I don't know what I would do. My life would be over."
As a result of its research the charity is calling on commissioners to ensure appropriate support services are in place and easily accessible for those living with the condition. It also wants family members, friends, neighbours and organisations to do their bit to make their communities dementia friendly.
Jeremy Hughes, chief executive of the Alzheimer's Society, said: "This report reveals the start truth that too many people with dementia, especially the thousands who live alone, are truly isolated.
"We need to put a stop to this epidemic of loneliness, not only to improve quality of life but also to save thousands from reaching crisis point and being admitted to hospital unnecessarily or care homes early.
"The Prime Minister's Challenge has put dementia in the spotlight. However, the reality is that many people still feel disconnected from society.
"It's time for all of us to play a part in helping people with dementia live well with the condition."