Hospitality specialist at HC-One plans 100 miles in 100 hours for heroes
Date Published:
04 Nov 2014 @ 11:16 AM
Article By:
Ellie Spanswick, News Editor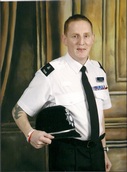 Paul Carpenter, a hospitality specialist at HC-One, plans to honour the contributions made by British and Commonwealth civilian and military servicemen and women.
Mr Carpenter has been in training for several months to ensure that he is fit to undertake his challenge of 100 miles in 100 hours. He plans to raise funds for The Care Workers Charity, a charity that financially supports people who work within the care sector.
Mr Carpenter said: "Since 1999 I have been raising funds for the Army Benevolent Fund (the ABF), which is a Soldiers' Charity who provide financial assistance to all soldiers and their families when in need.
"At the recent Great British Care Awards, I heard about The Care Workers Charity. I plan a 'challenge' event most years and it only seemed fit that this year I should raise funds for The Care Workers Charity too."
The challenge is scheduled to start at 10.00am on 7 November at Penistone and Mr Carpenter will run 100 miles in memory the fallen British and Commonwealth military service personnel.
The event will finish at Barnsley Town Centre on 11 November Barnsley Town Centre where a wreath will be placed at the cenotaph on behalf of HC-One, The Care Workers Charity and The Army Benevolent Fund.
The Rainy Day Fund, part of the Care Workers Charity is a fund for 'everyday heroes', devised to support care workers and give financial support for those in need.
Andrea Astle of the Rainy Day Fund said: "This challenge is a great way to support both charities and I'd like to encourage everyone to support Paul in his fundraising by visiting his just giving page.
"The Care Workers Charity is funded only by donations, and we rely heavily upon those within the industry, like Paul who take it upon themselves to make a difference."
To make a donation visit: www.justgiving.com/100eventcare