Christmas time provides the opportunity for young people from schools and colleges nationwide to organise seasonal entertainment.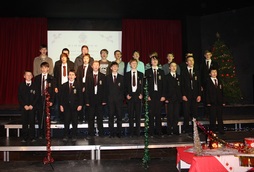 These events are no longer just created for family members and friends, but specifically tailored for older people within the community.
The Royal Voluntary Service estimates that almost half a million people over 75 will spend Christmas alone this year and recognised the reason as being due to family members not living close by.
A number of schools across the country are making preparations for parties and events to entertain and offer company for older people who many otherwise not have the chance to get together and celebrate.
'Golden oldies'
Debbie Murphy, an english teacher at Trinity School in Newbury, Berkshire has been responsible for co-ordinating a number of Christmas events for older people within the community for the last four years.
She organises group carol singing at West Berkshire Community Hospital, The Phoenix Centre which provides supportive services for adults with physical and learning disabilities and dementia.
Mrs Murphy said: "The students are very enthusiastic; they would perform every week if we had the time. We start practising carols after October half term during one lunch hour a week. There isn't too much organisation but inevitably some paperwork."
In the past students have performed at local Alzheimer's Christmas parties and Willows Edge care home in Newbury and performed 'golden oldies'.
Other schools have been organising entire evenings dedicated to providing entertainment to older members of their local community.
'Fantastic opportunity'
Ringwood School, A National Teaching Academy in Hampshire, has been holding Christmas concerts for older people within the community for the past nine years. This year's event is scheduled to take place on Monday 8 December.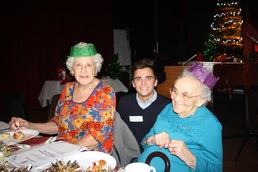 Claire Doolan, support co-ordinator at Ringwood School spoke about the annual event, she said: "This event is a fantastic opportunity for the young people of the school to support their wider community. Our Sixth Form students are able to welcome the town's senior generation to the school and spend an evening interacting with them.
"We feel that sometimes the younger generations can be stereotyped and this is a way of showcasing our students, who are really lovely young adults who really enjoy spending time talking to their guests and sharing stories. I hope that our guests get as much out of the evening that our students do."
Mrs Doolan is responsible for co-ordinating the event, including organising the catering team, sending out invitations and arranging transport for the guests, including organising staff to transport some guests.
More than 100 older people
The event organised by Ringwood School is usually attended by more than 100 older people from the local area. Some guests travel from as far as 10 miles away to the event which is aimed at private housing residents or older people who live in a warden assisted living environment as opposed to care homes.
Mrs Doolan said: "Initially the party was funded by the School, however over the past few years we have managed to source sponsorship and very generous donations from local companies – Waitrose, Sainsbury's, Ringwood Rotary Club, JP Morgan. All raffle prizes are donated by the local businesses in Ringwood."
Over 100 students are involved in each event and they are given the task of visiting local businesses to collect raffle prizes and gifts for the visitors, with every visitor on the day receiving a gift from Santa.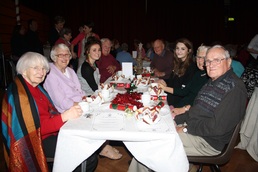 Mrs Doolan added: "I have run this event since the first one, so it is a well-oiled machine! I receive guest names and source sponsorship throughout the year, however I put the event together in November with official invitations going out in late November, close to the event.
Guests to the Ringwood School event are given a raffle ticket on arrival then treated to a finger buffet of chocolates, mince pies and countless cups of tea. Students provide a wide range of entertainment including musical performances, dances, story recitals and bingo to entertain all guests.
All guests that attend the event in the past come from a number of different backgrounds with a variety of needs including mobility problems, sight problems and dementia.
Over 30 years
John O'Gaunt School in Hungerford has been holding an annual Christmas party for older people, which has been organised by year 11 students for over 30 years.
All fundraising for the event is planned and carried out by the students, with activities including staff verses student sports matches and cake sales.
Rita Colclough, office manager at the school said: "Our visitors are greeted at the door and escorted to their seats by the students before being served with light refreshments and a sherry (or two). There are a couple of games of bingo with superb prizes, followed by entertainment by the year 11 drama students. Father Christmas pays a visit and student elves help give out the raffle prizes.
"The evening is rounded off with everyone joining in carol singing. So popular is the event, that there are two sessions, one in the afternoon and one in the evening."
There are also some smaller events organised by a number of primary schools to take place in collaboration with Sunrise Senior Living care homes in Sevenoaks and Solihull.
Plans are underway for children to hold a Christmas concert, performing carols and Christmas songs as well as a recital of The Christmas Story.
These parties and events organised by students and teachers allow them to give something back to the community. Children make visits to hospitals, care homes and day centres to sing carols, perform acts and talk to older people, who may not usually have the chance to interact with people outside of their homes or care home environment.