Home care worker named 'Extreme Fundraiser of the Year' by Midlands' Air Ambulance
28-Sep-15
Article By:
Melissa McAlees, News Editor
A home care coordinator, for Acer Care has won the 'Extreme Fundraiser of the Year Award' after raising £5,000 for the Midlands Air Ambulance charity.
Hannah Palmer, aged 26 from Hereford, was inspired to fundraise for the charity after the Air Ambulance crew saved her father's life, thanks to their swift response following a motorcycle accident in 2013.
Richard Turner, Right at Home's managing director, said: "Hannah is a hard-working, competent member of my team, and very popular with Right at Home clients.
"Her dedication is apparent to everyone, so I am not surprised that she achieved so much in such a short space of time. We are all extremely proud of her achievements, and delighted that her efforts have been recognised with an award."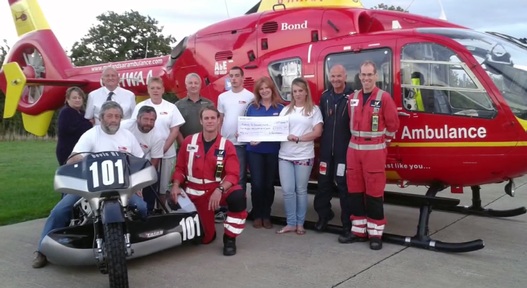 Ms Palmer's father, Calvin, was severely injured in his 1000cc sidecar during a motorcycle race in Bewdley. He suffered a bleed to the brain, a broken pelvis, chipped neck vertebrae, a broken collar bone and seven broken ribs. He was immediately taken by air ambulance to the Queen Elizabeth Hospital in Birmingham.
The consulting surgeon explained to the Palmer family that the Air Ambulance's professionalism and quick response saved Mr Palmer's life.
In response to the accident, Ms Palmer raised £5,000 to fund her father's ongoing treatment costs. The money raised over the set target was given to fund a further 42 life-saving missions, to show appreciation for the work carried out by the Air Ambulance.
In recognition of her charitable work, Ms Palmer has recently been presented with her Fundraiser of the Year award at the Right at Home offices in Avenue Road, Malvern. The award was presented by Susie Goodwin, the Midlands Air Ambulance regional fundraising manager for Gloucestershire and Herefordshire.
Ms Palmer has been working for Right at Home since June 2015. She is responsible for assessing and reviewing client needs and ensuring the company's systems comply with exacting Care Quality Commission standards.
Right at Home helps individuals to continue living happily and independently in their own homes. The home care supports people with a wide range of physical, practical and emotional needs, including specialised dementia care.