£4m centre for people with learning disabilities to create over 100 jobs in North Tyneside
26-Jan-16
Article By:
Ellie Spanswick, News Editor
A new 40 bed specialist care facility, specifically designed for adults with learning difficulties and autism, will provide more than 100 jobs for people living in North Tyneside.
Kendal House Properties are working with care provider Lenore Specialist Care to deliver the new supported living and day care centre.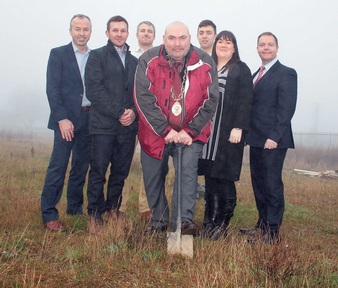 The facility will contain communal spaces, sensory rooms and modern accommodation. The property will be enhanced by the latest technology designed to help adults with learning difficulties to develop new skills and lead full and independent lives in their local community.
Speaking about the new facility, service manager for Lenore Specialist Care, Laura Murray-Walton said the scheme will allow the firm to further its plans to fill a gap in the adult care provision in the borough.
She commented: "I am delighted to announce the start on site of such an exciting development. Lenore is the first care operator in the North East to develop a facility of this type which focuses on providing specialist care to people over the age of 18 who have autism or learning difficulties.
"It has taken us a while to reach this stage as it was important that we got both the design of the buildings and the care services we could offer, just right. Having achieved this, we are able to ensure that once we are operational, we are able to meet the needs of our service users by providing bespoke care packages."
The project is part of a joint venture and has received ethical and financial support from Triodos Bank, who only loan to organisations who create social, cultural and environmental projects.
Kendal House Properties will oversee the development and construction of the new facility, while project leader Lee Maddison is spending time learning and understanding how to best support people with autism and learning disabilities.
He said: "It is important to us that we provide a future-proofed facility which will be able to adapt to the individual needs of service users. Whilst the safety of residents and the quality of care is paramount, we also want to make sure the facility is rooted in the community."
Relationship manager for Triodos Bank, Matthew Boggan, added: "We are delighted to be funding this joint scheme; it is an excellent example of an innovative partnership working which combines two areas of expertise, and together are focused on helping people with autism and learning difficulties with sustainability being a key principle. This community rooted project fits the values and objectives of Triodos Bank perfectly, and we are always looking to support projects like these."
The service will be located on Waterville Road, North Shields and is it is anticipated that the first residents at the facility will be welcomed in early 2017.