Schoolboy who released Alzheimer's tribute song named as a Point of Light by Prime Minister
05-Apr-16
Article By:
Ellie Spanswick, News Editor
A talented songwriter and schoolboy, whose moving tribute to his nan with Alzheimer's made it to the number one spot in the iTunes Singer/Songwriter chart has been named as a Point of Light by the Prime Minister's Office.
Harry Gardner, aged just 15 wrote 'Not Alone – Song for Alzheimer's' in honour of his 76-year-old nan Maureen McGuinness who is living with dementia, after she didn't recognise him for the first time.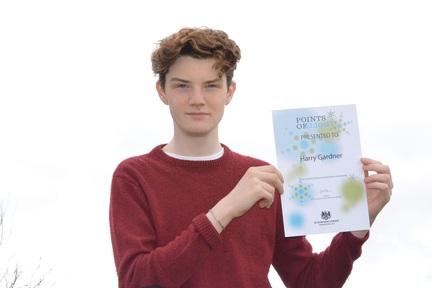 Released just last month, the song reached number 39 in the iTunes songs chart alongside artists such as Adele, James Bay and Ed Sheeran, while his music video for the song has more than 200,000 views on YouTube.
Prime Minister David Cameron said: "Harry's song 'Not Alone' is a wonderful tribute to his grandmother, Maureen.
"It has helped to raise awareness of Alzheimer's disease among the hundreds of thousands of people who have viewed it.
"The money Harry has raised through this single will also help the important work of Alzheimer's Research UK in fighting this devastating disease.
"I am delighted to recognise Harry as the UK's 510th Point of Light."
The Point of Light award recognises individual volunteers who are working to make a change in their local communities or have done something inspiring.
Harry said: "This is really cool. I was nervous to post this song at first but it's been such an amazing experience and receiving this award from the Prime Minister is just unbelievable."
So far, more than 1,700 people have downloaded the track, and Harry has already raised nearly £5,000 for Alzheimer's Research UK through downloads of the song and also donations on a separate funding page.
Regional fundraising officer for Alzheimer's Research UK, Jessica Hiscocks commented: "We are so proud of Harry and to know he is to receive a Point of Light award is fantastic and so well deserved.
"It is wonderful when we hear of teenagers using their spare time to helps raise funds for Alzheimer's Research UK and the fact Harry has used his enormous talent to benefit our charity is both incredible and selfless.
"We have received such a fantastic response to Harry's music video from all over the UK and the world and it's great to hear how Harry's music has touched so many."
The song is available to download for 99p with all profits going to the charity, Alzheimer's Research UK on iTunes: https://itunes.apple.com/gb/album/not-alone-song-for-alzheimers/id1085020658 or from Amazon Music: https://www.amazon.co.uk/gp/product/B01BV4OWUM?ie=UTF8&*Version*=1&*entries*=0
To watch Harry's music video, go to https://www.youtube.com/watch?v=VeVs6q5bC_s and to donate to Alzheimer's Research UK through Harry's fundraising page, visit: http://uk.virginmoneygiving.com/HarryGardnerMusic.