Historic World Cup song released for Alzheimer's Research
27-Jun-16
Article By:
Melissa McAlees, News Editor
An original World Cup song performed by the 1966 England football team has been released this month, along with never-before-seen footage of the players in the recording studio, to raise money for Alzheimer's Research UK.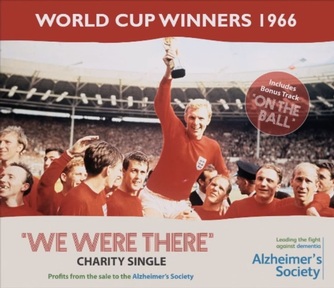 The song 'We Were There' was written in 1982 by original founding member of The Dallas Boys, Bob Wragg, wishing luck to that year's World Cup team.
Bob, now aged 82, believes the release of the song is poignant after three members of the team; Martin Peters, Nobby Stiles and Ray Wilson, have been diagnosed with dementia.
He said: "I was saddened when I saw a picture of the 1966 team in the newspaper, reporting on how several of them now have dementia. I know quite a few footballers from my showbiz days and a number of them have been diagnosed.
"Seeing the story reminded me of the song we recorded in 1982. We were overjoyed with it at the time and even after all these years, I got quite emotional watching the video. I decided it was time to release it and if we can help fund research into this dreadful condition, that would be amazing."
A video was also shot of the recording, showing the cup-winning team throwing balls around, laughing, and playing guitars, violins and drums.
The song was previously set to be released by EMI, however when the Falklands War broke out, it was considered inappropriate for wartime and was consequently dropped.
The single was released in time for the 50th anniversary of England's World Cup win and ahead of this summer's UEFA Euro 2016 Championships.
Saddened to hear that so many of the 1966 team were affected by dementia, Bob has decided that all profits from the CD/DVD bundle will go towards Alzheimer's Research UK.
The leading dementia research charity conducts world class studies, focusing on diagnosis, prevention and treatments for dementia. There are currently no treatments that can stop or slow down the condition which currently affects over 850,000 people in the UK.
Ian Wilson, director at Alzheimer's Research UK, said: "We're grateful to benefit from the release of this nostalgic and poignant anthem from our nation's most famous football heroes. Fans will get a real buzz from seeing the squad members having fun in the studio in a relaxed mood as they sing out the chorus.
"The support from Bob Wragg could not be more important, with 225,000 people in the UK set to develop dementia this year, the need for new treatments that offer hope is critical. Research has the power to defeat dementia and bring hope to thousands of individuals and families whose lives have been turned upside down by the condition."
The single is available as a CD/DVD set, including the historic footage of the players recording the song.
For more information visit: http://www.alzheimersresearchuk.org/