Passionate and committed care staff recognised at annual awards ceremony
29-Jun-16
Article By:
Ellie Spanswick, News Editor
Provider of residential and home care services across the South of England, Care South, have been celebrating staff achievements at its annual Stars Awards ceremony.
On 21 June, Care South held its sixth annual event at AFC Bournemouth's Vitality Stadium, recognising and rewarding outstanding achievements and the most dedicated staff within its care homes and home care services.
The awards celebrate individuals and teams across several categories, with nominees put forward by fellow colleagues, residents, service users and relatives and also celebrated the achievements of more than 40 staff who achieved formal qualifications during the year.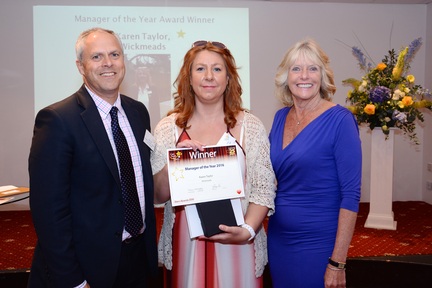 Chief executive of Care South, Susan Willoughby commented: "This is a highlight of our year, celebrating the professionalism, passion and commitment to care that is delivered day in, day out, by all our staff. Once again, we received a huge number of nominations for our Stars Awards, from colleagues and our residents and service users. The event was a wonderful celebration of all that is good in care and it provides us with an opportunity to publicly acknowledge and thank our staff for their dedication to providing exceptional care.
"All of our finalists have demonstrated exceptional commitment to providing the highest quality care for residents and service users across our homes and home care services, making a huge difference to the lives and wellbeing of those we care for and we are hugely grateful for and proud of their efforts. Above all we recognised that our finalists are often where they are, because of the help and support of colleagues, with teamwork being the key to successfully delivering the best quality care."
This year's awards ceremony marked a special anniversary for Care South as the company celebrated its 25th anniversary and all members of staff who have worked for the company for 25 years, were awarded a silver heart award in recognition of their hard work.
Some of this years award winners included manager of Wickmeads Karen Taylor who was awarded the 'Manager of the Year' award, while Deborah Hodges from Care South Home Care Service covering Bath and North East Somerset (BANES) was awarded 'Home Carer of the Year' and manager of Care South Home Care Service (BANES), Karen Reid was recognised with the prestigious 'Chairman's Award for Outstanding Individual of the Year'.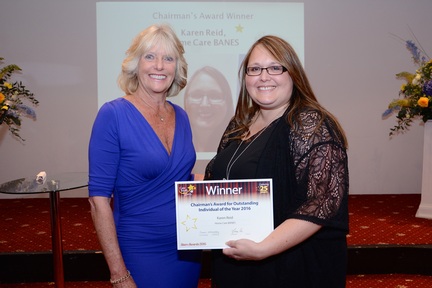 Care assistants Chantelle Latrese from in Weymouth and Robert Windsor from Care South Home Care Service in Bath and North East Somerset were recognised as being the 'Best Care Newcomers' at the awards.
Queensmead in Christchurch was named 'Home of the Year' and also won the 'Pride in our Home' award. Talbot View in Bournemouth won the award for 'Best Activities Programme' and a special award was presented to Jenny Webster, activities organised at Maiden Castle House in Dorchester for 'Continuing Excellence in working with the Community'.
The afternoon saw all staff who attending the awards take part in a 25 year themed quiz, testing their knowledge of popular culture and events from 1991 to 2016 with prizes award for the winning table.
Care South strive to encourage their staff to participate in additional training and continuing professional development and celebrate the achievement of a range of qualifications by a large number of staff, including: Diplomas in health and social care, education and training, kitchen services and leadership for health and social care, as well as a CMI Diplmoa in Management and a Master of Arts in English.
Deputy home manager at Elizabeth House in Poole Paul Beasley was awarded a special aard for 'Commitment to Training and Development'.
Established in March 1991. Care South has developed and evolved and now operates 17 (soon to be 18) care homes in Dorset, Somerset and West Sussex, in addition to a successful home care service.