Downward dog and flying planes: Yoga girl fundraises as grandad dies of dementia
05-Jul-16
Article By:
Angeline Albert, News Editor
A nine-year-old girl's love for her grandad sparked her to organise a yoga event for Alzheimer's Research UK, not knowing her inspiration would die of dementia the same day.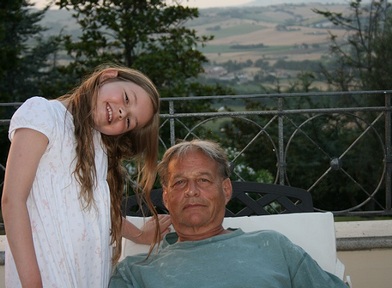 In a speech that addressed her whole school, Sofia Toub donned a charity t-shirt and galvinised the support of children and staff to join yoga sessions to raise cash for dementia research, after telling the audience how her grandfather had been affected by the condition.
Having won the support of her Edinburgh school, Sofia arrived with other children on the morning of her yoga event dressed in leggings and t-shirts to bend, stretch and salute the sun, unaware it was to be her grandad's final hours.
Sue Hay, the headteacher at St George's Junior School for Girls in Edinburgh said: "Sessions were held for each year group and once on their yoga mats, there was no stopping them.
"They bent and stretched trying the sun salutation, the downward dog, the cat, flying aeroplanes, shoulder stands, the warrior, with the firm favourite being the tree pose."
Each of the 174 pupils gave at least £2 to take part in the yoga sessions led by a school teacher. In this way, Sofia raised £553.47 for the charity.
There are more than 5,000 people with dementia in Edinburgh. Sofia's grandfather Richard Toub was one of them but died of Alzheimer's at the age of 73 that day. Speaking of his father's death, Sofia's dad, Jonathan Toub said: "I was by his side and therefore unable to be there for Sofia's event.
"Losing a loved one to Alzheimer's is incredibly painful for any family, but I am so proud of Sofia's response and her personal desire to positively contribute to the ongoing fight against this horrible disease".
Fastest ice cream eater in the world
After learning of her grandfather's death, Sofia said she would always remember "his love of ice cream, which he could eat faster than anyone in the world".
She added "But most of all I will remember him for his loving nature, always smiling and trying to make me laugh and be happy. I wanted to do something to help, and I really liked the idea of yoga, so I thought why not get my whole school involved?"
The dementia charity's Yoga for Alzheimer's initiative encourages people to take part in one-off classes across the country. Venues across the UK hosted Yoga for Alzheimer's events between 12 June and International Yoga Day on 21 June.
Jessica Hiscocks, fundraiser for the charity said: "We would like to thank Sofia for organising such a huge event for her school, it certainly can't have been an easy task, and we are sorry to hear she lost her grandfather.
"Alzheimer's Research UK is leading the charge to find treatments and preventions for dementia, and we couldn't do this without supporters like Sofia."
To read about yoga enthusiast Ingrid Stone's involvement in June's nationwide Yoga for Alzheimer's events click here