People with hearing loss urged to be proactive about their communication needs
11-Jul-16
Article By:
Melissa McAlees, News Editor
Action on Hearing Loss, a national charity, is urging the nine million people in England who are deaf or have hearing loss to tell their GP what support they need to help them communicate.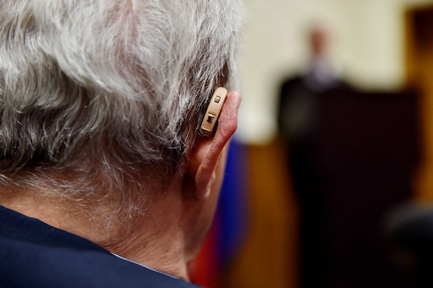 The call comes as the charity launches its new campaign, 'On the Record', before the NHS England's mandatory Accessible Information Standard comes into effect.
The Accessible Information Standard informs organisations how they should make sure patients living with disabilities receive information in formats that they can understand and receive appropriate support to help them to communicate.
Dr Roger Wicks, director of policy and campaigns at Action on Hearing Loss, said: "This is a huge step forward for people who are deaf or have a hearing loss. From simply booking appointments to fully understanding what has been said in the consulting room, many have struggled to enjoy full, equal access to healthcare.
"This Standard now means that the nine million people in England who are deaf or have hearing loss must be provided with the support they need to communicate when they visit the GP or other NHS services. We urge anyone who hasn't had their needs recorded to use one of our free resources to contact their GP and make their needs known."
Recent research conducted by the charity found that most people with hearing loss were forced to struggle with the phone or go in person to book appointments for lack of other options such as online booking.
Similarly, one in seven had missed an appointment because they had not heard their name called out in the waiting room, and more than a quarter had said they did not understand their diagnosis after seeing their GP. Two thirds of those needing a British Sign Language (BSL) interpreter did not get one.
NHS England estimates that missed appointments for people with all levels of hearing loss costs the NHS at least £14m every year.
The Standard, which becomes a legal requirement in England on 31 July 2016, establishes a clear administrative process for providers of NHS care or publicly funded adult social care to follow, to make sure people with disabilities and sensory loss can contact services when they need to, communicate well during appointments and understand information they are given.
Action on Hearing Loss has created a template letter for patients to send to their GP practice manager or a card for patients to give to the receptionist the next time they are at the surgery. Patients can use one of these two resources to explain what support they need.
The national charity helps people confronting deafness, tinnitus and hearing loss to take control of their lives and remove the barriers in their way, giving people support and care, developing technology and treatments, and campaigning for equality.
For more information about the Accessible Information Standard, visit: https://www.actiononhearingloss.org.uk/