Home Instead Senior Care is proud to be the first homecare provider to hold five 'Outstanding' ratings from the Care Quality Commission (CQC), the independent regulator of health and social care in England.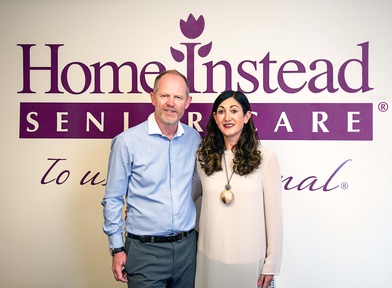 The latest 'Outstanding' rating has been awarded to Home Instead Senior Care (East Notts & Melton Mowbray), achieved by owners Jo and Richard Aram, who opened the branch four years ago.
The Care Quality Commission's (CQC) chief inspector of adult social care, Andrea Sutcliffe, said: "I am delighted Home Instead Senior Care has achieved a fifth outstanding rating following our recent inspection at its Nottinghamshire branch.
"We have rightly set the bar high for services to be rated 'Outstanding'. It is good to see excellent leaders at Home Instead who value and care for their staff and focus on a truly person-centred approach meeting that high standard and providing great care for the people they support.
"Everyone deserves to experience care that we'd all be happy for any of our loved ones to receive and I wish Home Instead all the very best in continuing to make the 'Mum Test' real."
Difference to society
Home Instead East Nottingham and Melton Mowbray opened in 2012, when Mr Aram decided to hang up his wings after flying with British Airway's for 15 years.
The father-of-two decided to start a new career that was closer to home, and one where he felt he could make a difference to society at the same time.
Since opening four years ago, 65 CAREGivers now proudly deliver bespoke home care services across Nottinghamshire and Leicestershire to 90 older people, supporting them to live in the comfort and familiarity of their own homes.
Home Instead senior care director, Richard Aram, said: "My time in the skies with British Airways taught me what excellent customer service looks like. You have to put people first, pure and simple, and then there's a ripple effect of trust.
"When we started our homecare company, Jo and I adopted this ethos from day one. We care about quality of life and dignity for our elderly clients. We care about their families in turn, they have to be able to have the peace of mind to know that their loved ones are in safe hands.
"We don't believe homecare should be rationed in short visits. That's why our person-centred care visits last a minimum of one-hour, to allow the time to care."
Dedication of CAREGivers
Dedicating the rating to their CAREGivers, Ms Arum added: "We're thrilled to become the first homecare provider in Nottinghamshire and Leicestershire to receive an 'Outstanding' rating from the CQC.
"Getting the highest rating possible is due to the dedication of our CAREGivers. Richard and I dedicate this 'Outstanding' rating to them as our mark of respect, we couldn't have done this without their commitment."
The CQC inspection was carried out in February 2016. 30 people were using the service.
The franchise was praised for its caring and compassionate staff, effective and well-led care, safety, responsiveness and understanding. It was consequently rated an overall ''Outstanding' from the inspection body.
The report highlights the quality and standard of care the branch delivers to its clients and reflects the peace of mind that its trusted care provision gives to family members.
CAREGivers spoke highly to CQC inspectors about the way they are looked after and valued for their contribution to quality care provision.
One stated: "It is a pleasure to work here. It doesn't feel like a job, I go out and do some good and then go home with a smile on my face."
Another commented: "A brilliant firm to work for, they not only support the client but support the caregivers too."
'Exceptional, caring and consistent service'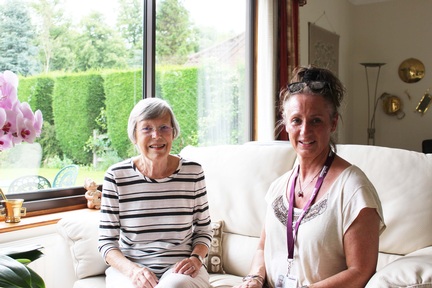 Under CQC's programme of inspections, all adult social care services are given a rating according to whether they are safe, effective, caring, responsive and well-led. Home Instead Senior Care was rated 'Outstanding' for being caring and well-led and 'Good' for being safe and effective and responsive.
Rob Assall-Marsden, CQC's head of inspection for adult social care in the central region, said: "We were impressed with what we found during our inspection of Home Instead Senior Care and inspectors were struck by how caring staff were towards those using the service.
"People received an exceptional, caring and consistent service. They were supported by staff who were trained and given guidance on how to meet their needs, their human rights to make decisions for themselves were respected and they were supported to eat a healthy and balanced diet.
"The people we spoke to described the service in exceptional terms. They decided what care and support they needed and this was provided in a manner that valued and respected each person who used the service."
He added: "We also found that people using the service had regular opportunities to express any issues of concerns and they were confident these would be looked into and resolved. Furthermore, people were involved in contributing on how the service was run, as well as taking part in research on how to improve home care services nationally. The systems in place at the service ensured people received an excellent service.
'Innovative and inspirational leadership'
"Meanwhile, staff were seen to be dedicated and committed to their work and benefitted from innovative and inspirational leadership which put people at the heart of the service. All of this meant people received a high standard of care, which is why it has been rated 'Outstanding'."
Home Instead Senior Care is part of a worldwide organisation devoted to providing the highest-quality care for older people in the comfort of their own homes. They offer a wide range of one-to-one services tailor made to the needs of the individual, and home visits, which can be from an hour-a-day up to 24 -7 care.
Holding five outstanding ratings from the CQC pays testimony to Home Instead's mission: 'to change the face of ageing'.
Home Instead Senior Care's 'Outstanding' ratings include: West Lancashire and Chorley (January 2015), Wimbledon and Kingston (February 2016), Durham (February 2016), Exeter and East Devon (May 2016) and East Nottingham and Melton Mowbray (July 2016).
On 13 July, the Care Quality Commission published 127 reports about adult social care services in Central England of which two were rated 'Outstanding'. Some 87 care homes and home care agencies were rated 'Good', 35 were rated 'Requires Improvement' and three were rated 'Inadequate'.
For more information, visit: http://www.cqc.org.uk/
click here for more details or to contact Home Instead Senior Care (East Notts & Melton Mowbray)