'Beardjazzled' world record event raises £4,000 for dementia research
26-Jul-16
Article By:
Melissa McAlees, News Editor
Bearded men from across the UK gathered at Northampton Town Festival after signing up to get 'beardjazzled' to raise money for Alzheimer's Research.
The beardjazzled event was organised by Northampton-based company DP Marketing Communications, which hoped to break a world record for the largest number of glitter beards created in one-hour.
The marketing company has since raised £4,000 for the charity after hundreds of volunteers signed up to receive their colourful glitter beards in July.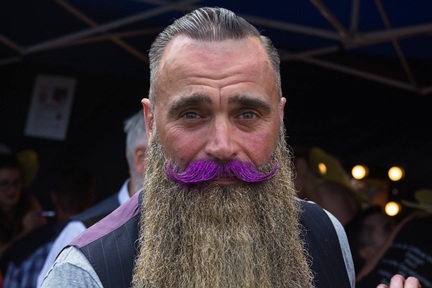 Daniella Paolozzi, marketing director at DP Marketing Communications, came up with the quirky fundraising idea after sadly losing her grandad Alfie Paolozzi to vascular dementia in 2010. She said: "I am so proud of what we have achieved by organising this event, and how much fun everyone had.
"When we decided to put on the event, we never dreamed that people would be so generous, supportive, friendly and enthusiastic about what we were doing. We couldn't have done it without our bearded legends, awesome glitter fairies and support from friends and family. We'll definitely be planning one for next year.
"I hope that the event has raised awareness of the need to find a treatment and a cure, and that the funds raised will help to ensure that one day nobody else has to have their identities taken away from them again by this cruel illness."
From mere stubble to moustaches, goatees and full length beards, the men were seen with a range of colours, patterns and glittery designs on the day.
Women were spotted sporting 'beards', while children played with glitter and the company's staff dressed as glitter fairies.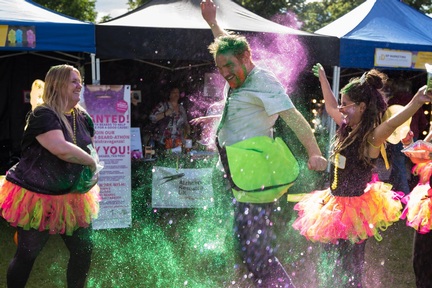 Commenting on the success of the event, Jessica Hiscocks, regional fundraising officer for Alzheimer's Research UK, said: "We are blown away by how much money this event raised for vital dementia research. We can't thank Daniella enough for all she's done to organise such a fun-filled and lively event which was clearly enjoyed by everyone who took part.
"Currently there are 850,000 in the UK living with dementia, including more than 8,000 in Northamptonshire. Alzheimer's Research UK is leading the charge in finding preventions and treatments for this terrible condition and we couldn't do it without fundraising efforts."
Alzheimer's Research continue to raise awareness of dementia to help find a treatment to slow or cure the condition. For more information, visit: http://www.alzheimersresearchuk.org/