Four in five patients with early inflammatory arthritis are at risk of long-term disability and reduced life expectancy due to delays in NHS treatment, according to new research.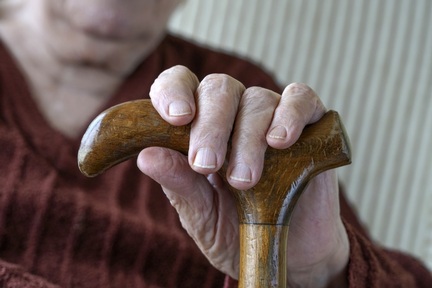 The National Rheumatoid and Early Inflammatory Arthritis Audit report reveals a high proportion of services are failing to meet the quality standards set by the National Institute for Health and Care Excellence (NICE), including referral from a GP within three days and assessment in a rheumatology service within three weeks of referral.
Dr Liam O'Toole, chief executive officer of Arthritis Research UK, said: "The results of this audit are disappointing and show that people with inflammatory arthritis still aren't getting the treatment they need fast enough.
"The impact of delayed treatment can be detrimental and life-changing; four out of five people with inflammatory arthritis are at risk of long-term disability or reduced life expectancy because of delays.
"We urge that immediate action is taken to improve access to these services, so that people with inflammatory arthritis get the treatment they need and the quality of life they deserve."
Ten million people have a from of arthritis
According to the NHS, rheumatoid arthritis is a condition that can affect any joint in the body, although the small joints in the hands and feet are often the first to be affected.
The main symptoms of rheumatoid arthritis include: joint pain, stiffness, swelling, warmth and redness. As well as problems affecting the joints, some people with rheumatoid arthritis experience a range of more general symptoms, such as: tiredness and a lack of energy, a high temperature (fever), sweating, a poor appetite and weight loss.
Around ten million people have a form of arthritis, of which almost 700,000 have rheumatoid arthritis. The arthritis can be so severe that those with the disease cannot bathe or dress themselves or perform simple tasks such as walking a short distance. Rheumatic conditions can also damage vital organs, including the lungs, heart, nervous system, kidneys, skin and eyes if not adequately treated.
Research suggests that one third of sufferers will have stopped working within two years of onset, and half will be unable to work within ten years. Rheumatoid arthritis is a major cause of sickness absence and unemployment in the UK, with an estimated cost of £1.8bn per year.
Avoiding lasting complications
With one million people at risk of preventable, long-term disability and reduced life expectancy due to delays in referrals to specialist advice and treatment services, it is crucial that patients get appropriate treatment in the first weeks and months to maximise their chances of avoiding lasting complications.
However, the report reveals considerable differences in achievement rates for the standards across England and Wales. Depending on where a patient lives, they are far more or less likely to access treatment at an early stage and prevent the disease becoming more advanced and life-shortening. Patients in Wales are half as likely to see a specialist within three weeks as those living in London.
Research points to several reasons for the delays in accessing services, including the overall number of rheumatology specialists needed to diagnose and treat the disease, and a link between numbers of specialist nurses and an ability to commence treatment in a timely manner and achieve treatment targets.
Research also highlights a lack of awareness of the symptoms of the disease and of the need for quick referral amongst GPs.
Accessible treatment at an early stage
Clinical audit director, Dr Jo Ledingham, commented: "Inflammatory arthritis is a widespread medical condition with higher linked mortality rates than some cancers. But, with appropriate and quick treatment the disease and its consequences can be controlled. GPs understand the need for speed when it comes to diagnosing and referring cancer patients, yet many still don't understand that they need to treat inflammatory arthritis with the same urgency.
"Remission is a realistic aim with modern management, allowing patients to live a longer and more fulfilling life, benefitting themselves, their families, their employers and ultimately costing the Government less in benefit payments and more costly drug treatment. Rapid access to specialist services is needed to facilitate this. In particular, far quicker, and more consistent referral and treatment times need to be achieved across England and Wales."
The audit's recommendations include:
• Increase awareness amongst the general public of the symptoms of inflammatory arthritis and the need for quick treatment to prevent it progressing;
• Analyse and understand variation in performance against the key standards;
• Review the adequacy of specialist nurse provision, given the strong association between staffing levels and timely delivery of intensive treatment.
The British Society for Rheumatology (BSR) president, Dr Peter Lanyon, added: "It's now very clear from the consistency of the data, that important variations in standards for people living with inflammatory arthritis still exist. This has implications for both primary and secondary care clinicians and commissioners.
"We all have a role to play in working towards reducing this unwarranted variation, at local, regional and national level. I would urge all those commissioning or delivering services to read the report in detail, reflect on the results, and decide individually and within respective teams, what the implications are and what actions are required."
The National Rheumatoid and Early Inflammatory Arthritis Audit report was commissioned by the Healthcare Quality Improvement Partnership (HQIP) as part of the National Clinical Audit and Patient Outcome Programme (NCAPOP) and carried out by the BSR.