People with dementia encouraged to trial innovative apps to help reclaim memories
05-Aug-16
Article By:
Melissa McAlees, News Editor
The creation of two new apps, designed to help people living with dementia remember the past, will be trialled as part of a new project.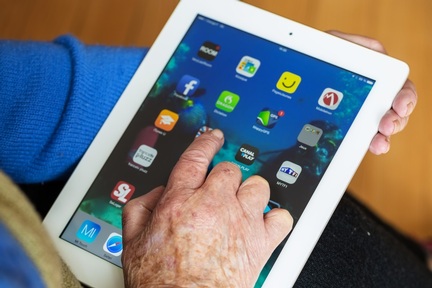 Innovation foundation Nesta is piloting two new apps – 'Book of You' and 'Playlist for Life' – as part of its Dementia Citizens project, to connect people with dementia and their carers with researchers in efforts to improve care for those living with the condition.
John Loder, head of strategy at Nesta, said: "This is an ambitious project that brings two spheres of work together in a way that is urgently needed. Digitally-enabled and patient-led research like this not only contributes positively to the social and quality of life of the person living with dementia and their carers, but can provide crucial insights into improving care."
Through the apps, people with dementia and their carers can enjoy shared activities such as listening to music or creating a digital photo story book while also completing well-being surveys on their smartphone or tablet.
'Book of You' is a way to share happy memories with carers, friends and family. This can have powerful benefits, such as improving mood and well-being, stimulating memories, and helping to maintain or increase a sense of identity.
'Playlist for Life' is a way to enjoy personal music with carers, friends and family. Everyone has a song that takes them back to another time and place or cheers them up, and listening to this music can have powerful benefits for those living with dementia – from lifting mood and encouraging communication, to bringing a person with dementia closer to their friends, family and carers.
It is hoped that users of the reminiscence and music apps will help develop the technology and improve the user experience for people living with dementia.
Similarly, using the everyday data produced by these activities, specialist researchers endeavour to spot patterns, understand care interventions and produce evidence-based recommendations to address key issues in care.
Supported by the Department of Health, Alzheimer's Research UK and Alzheimer's Society, Dementia Citizens offers a low-cost alternative for researchers looking to conduct research at scale by providing easy access to open datasets and digital toolkits.
Matthew Norton, head of Policy at Alzheimer's Research UK, said: "Alzheimer's Research UK is delighted to support this innovative scheme, which offers an easy way for people with dementia and their carers to take part in engaging activities and contribute to research at the same time.
"We know that many people would like to take part in dementia research but do not know how – projects like Dementia Citizens, alongside initiatives such as Join Dementia Research, are crucial in providing opportunities for the public to get involved in research efforts.
"Research is vital for improving the lives of the 850,000 people living with dementia in the UK, and this scheme is a welcome addition in the fight against the condition."
Compatible with iOS smartphones and tablets (iPhone, iPads, iPod Touch), app development comes from research partners Bangor University and Glasgow Caledonian University. For more information on the two apps, visit: http://dementiacitizens.org/.