Choosing to volunteer later in life can improve a person's wellbeing and support good mental health, research has revealed.
The study conducted by researchers from the University of Southampton and the University of Birmingham has been published in the BMJ Open online and found that the effects of volunteering before the age of 40 did not apply, suggesting that volunteering can have a stronger, more positive effect at certain points in life.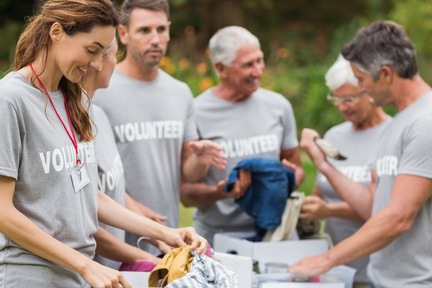 The results of the study further highlighted the need to encourage middle aged and older people to participate in volunteering activities.
Dr Faiza Tabassum, visiting research fellow at the University of Southampton, said: "Voluntary action might provide those groups with greater opportunities for beneficial activities and social contacts, which in turn may have protective effects on health status. Particularly, with the ageing of the population, it is imperative to develop effective health promotion for this last third of life, so that those living longer are healthier."
Researchers from the Southampton Statistical Sciences Research Institute and Birmingham's Third Sector Research Centre studied more than 66,000 responses from British adults to from the British Household Panel Survey (BHPS), now part of the UK Household Longitudinal Study called 'Understanding Society'.
The survey originally ran between 1991-2008 and asked a range of questions about leisure time activities and formal volunteering, the survey further judged mental health and emotional wellbeing using a validated proxy known as GHQ-12.
More than 20 per cent of respondents said they participate in some form of formal volunteering with women tending to participate more than men.
The study revealed that across the entire sample, the average GHQ score was the best (lowest) among those who said they frequently volunteered and worse (highest) among those who never volunteered.
When scientists studied the age of participants, they found positive association between volunteering and good mental health and emotional wellbeing for participants around the age of 40 which was also consistent in participants aged 80 and over.
Providing a sense of purpose
Dr Tabassum continued: "Volunteering may also provide a sense of purpose, particularly for those people who have lost their earnings, because regular volunteering helps contribute to the maintenance of social networks, and this is especially the case for older people who often live in isolation."
Researchers revealed that those who said they had never volunteered had lower levels of emotional wellbeing which started at midlife and continued as they got older, compared to those who volunteered.
Commenting on the research, chief executive of volunteering charity, Volunteering Matters Oonagh Aitken said: "I am very pleased, and not surprised, to learn that the BMJ has found robust evidence to suggest that volunteering boosts mental health in midlife and beyond. Volunteering is an excellent opportunity for people of all ages to learn something new, develop their confidence and skills, and make a meaningful contribution to their local community.
In the context of an ageing population, a mental health funding crisis and an increasingly unequal society, social action volunteering is more important than ever. We encourage people of working age and beyond to find out more about volunteering opportunities in their community. Through our decades of experience we have consistently seen substantial benefits for the volunteers themselves, the beneficiaries they support, and of course society as a whole."
Previously research has suggested that volunteering in older age is associated with both improved mental and physical health, however until now it was unclear whether the benefits extended into other age groups.
The study findings remain consistent despite changing influential factors such as: marital status, educational attainment, and social class. Study researchers were unable to gauge the extent of 'informal' volunteering, such as helping out friends and neighbours so were unable to capture the full range of voluntary activities.
Deputy director of Third Sector Research Centre at the University of Birmingham Professor John Mohan said: "Precisely how opportunities for engagement in volunteering can be provided and sustained is a considerable challenge at the present time, because of the pressures of austerity, while the distribution of voluntary organisations means that opportunities to participate are not always available everywhere."
"This study does suggest that we should pay attention to the diversity of experience of people across their life course, and not just uncritically assume that volunteering has benefits for everyone, everywhere."