The Care & Dementia Show, the UK's largest care home event, is set to change attitudes this year by offering visitors a chance to take part in a Virtual Dementia Tour.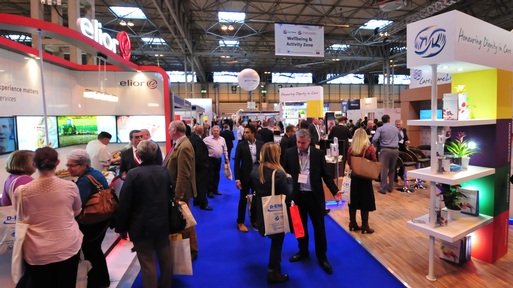 The Tour which is being used to train staff in care homes gives people a unique insight into the lives of people with dementia.
The mobile simulator takes away the primary senses such as touching, hearing and seeing so they can walk in the shoes of people with dementia and experience the fear and frustration they go through on a daily basis.
The show which takes place from 11 – 12 October at the NEC, Birmingham, is set to attract over 2,500 visitors looking to source new products and services, share best practice and extend their network.
Chris Edwards, Care & Dementia Show event director, said "Following the 2015 event, our visitors and exhibitor research highlighted a number of growth areas for the care industry ranging from construction to business management issues. We have transformed the event for 2016, offering more content than ever before. From opportunities to learn and train, to gaining advice, sourcing products and networking, this year's show is the essential meeting place for the industry."
There will be a range of informative seminars on vital issues affecting the care sector such as 'Has the care sector got an image problem' and 'Bed-blocking: The hospitals' perspective'.
New elements
Other new elements in the show include a Care Managers' Forum – ten free practical sessions and workshops designed to help care managers make a real difference to the lives of those they are caring for. Plus Dementia in Care & Housing – a series of free CPD-certified seminars exploring best practice in dementia care. Visitors can hear the latest research insights whilst networking with residential care experts and dementia care specialists.
There is also a new zone called Care in Construction – where visitors can network with and hear from construction professionals, interior designers and care operators working on care-related projects. The Care in Construction theatre will give visitors the opportunity to learn about innovative care projects currently under development in the UK.
Visitors to the show can even prepare in advance by using Care Connect – a new one-to-one meeting programme designed to connect exhibitors and visitors ahead of the event via an online portal. Visitors can identify companies of interest and network with them in advance, allowing them to make best use of their time at the show.
The exhibition will also feature around 250 suppliers including ArjoHuntleigh, Teal Furniture Ltd, everyLIFE Technologies, Renray Healthcare Ltd and YTM Furniture Ltd. In addition there is an educational programme offering 50 free CPD accredited seminar sessions addressing key industry issues.
Visitors can register to attend for free at www.caredementiashow.com