Technology which monitors behaviour patterns set to revolutionise dementia care at home
20-Sep-16
Article By:
Charley Walker, News Editor
A £5m pioneering technology trial has been launched by the NHS help people with dementia live well in their own homes for longer and prevent emergency hospital admissions.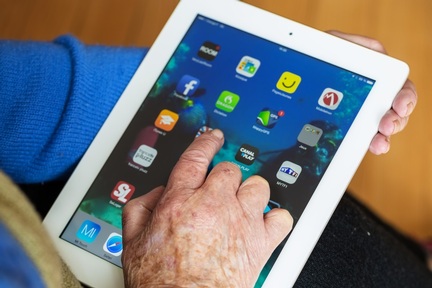 A two-year Test Bed, launched by Surrey and Borders Partnership NHS Foundation Trust, will see 1,400 carers and people with dementia take part in the innovative research study.
The project aims to test how the Internet of Things – the concept of connecting any device to the internet or connecting devices to each other via the internet – could help to modernise NHS healthcare for older people with long-term health conditions.
Supported by an army of 150 volunteers, participants of the Technology Integrated Health Management (TIHM) for dementia study will have their homes fitted with non-invasive technological devices such as sensors, apps and trackers which will connect to each other via the Internet of Things. The devices will then work collaboratively, collecting and analysing information about a person's health and patterns of behaviour. This information will enable the devices to alert health professionals to a detected problem and take action.
Dr Ramin Nilforooshan, leading dementia specialist at Surrey and Borders Partnership, said: "The technology is designed to alert us to any changes in behaviour or any changes in wellbeing that could signal someone is becoming unwell or that they are in trouble. For example, they may be developing a urinary tract or lower respiratory infection. We could detect the early signs/symptoms of those infections and successfully treat them at home."
By attaching sensors to essential everyday objects such as fridges, kettles and beds, health professionals will be able to monitor important eating, drinking and sleeping habits and intervene if anything unusual or unsafe is detected.
It is estimated that 850,000 people in the UK live with dementia – a figure which is set to rise in the coming years – and the study has the potential to deliver fundamental change to future dementia care.
Reducing 'distressing' hospital admissions
With 55 percent of the 10,507 dementia patients aged over sixty-five across Surrey and North East Hampshire admitted to hospital each year (often for potentially preventable acute conditions), one of the project's main aims is to reduce hospital stays for people with dementia. This will be achieved not only through faster response times to treat people in their own homes, but also by relieving the stress on caregivers: carer burnout is one of the main reasons people with dementia are admitted to hospital.
Dr Nilforooshan explains: "We know that people with dementia do not respond well to being in hospital – and that their symptoms can worsen in this environment so it is much better if we can treat them before they need to be admitted to hospital."
Currently campaigning for participants, TIHM for dementia will comprise 1,400 people in total – 700 people with dementia and 700 carers – half of whom will be randomly selected to receive the technological devices. The remaining half will continue their care as usual as part of the control group and results of the two groups will be compared to observe whether those with technological devices do indeed experience better health and wellbeing as a result.
Dr Helen Rostill, director of innovation and development at Surrey and Borders Partnership, said: "This is an exciting trial that could make a significant difference to the lives of people with dementia – and their families. With a growing elderly population, it is right that we examine innovative new technologies, such as the Internet of Things, to see what we can do to help people live better lives in their own homes and help them avoid stays in hospital that we know they can find very distressing."
The project, which is one of only two Test Beds looking specifically at creating an Internet of Things, has a number of partners in health and social care, technology and education, including: Alzheimer's Society, University of Surrey, Royal Holloway University of London, Kent Surrey Sussex Academic Health Science Network, Public Intelligence, six local clinical commissioning groups and nine technology companies.
More information and details on how to participate in the trial can be found on the Surrey and Borders Partnership NHS website.