Game of Thrones star campaigns for Alzheimer's Research in memory of grandmother
13-Oct-16
Article By:
Melissa McAlees, News Editor
Actor Iwan Rheon is helping to improve people's understanding of dementia by lending his voice to a new animation film for Alzheimer's Research UK.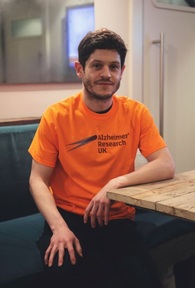 The 31-year-old, best known for playing Ramsay Bolton in the series Game of Thrones, recorded the voice-over for the short film 'What is Dementia?', which was developed in collaboration with Studio La Plage.
The film blends informative and educational scientific imagery with visual representations of the human side of dementia to explain what the condition is and how it impacts on people's lives. The animation challenges misconceptions around dementia and aims to improve understanding of the condition which affects around 850,000 people across the UK.
Mr Rheon, who has also starred in the E4 show Misfits and ITV comedy Vicious, lost his grandmother, Beryl, to Alzheimer's disease and vascular dementia in 2008, aged 83. He said: "My grandmother was a real pillar of the community in Llanrug, North Wales. She was a Sunday school teacher and a dinner lady in a primary school.
"She was an incredibly strong woman and it all happened so quickly. It got to the point where she couldn't live by herself anymore and unfortunately she had to be sectioned.
"At times she would become really confused, thinking I was her husband. At first it was kind of funny – you have to try and laugh through these things – but she eventually deteriorated to the point she didn't know who we were or where she was.
"I'll always remember the way she used to constantly chase me and my brother around as we'd always be up to mischief. Even though we were a bit of a nightmare, she loved having the family around. She was a lovely woman."
Although dementia is becoming one of the most feared health conditions, the charity has revealed that just under a quarter of people recognise that the condition is driven by physical diseases that affect the brain.
Mr Rheon is joining Alzheimer's Research UK to urge people to share the film with friends, family and colleagues to help address misunderstanding of dementia.
He added: "I'm proud to have played a small part in the project and hope people will share this animation as far and wide as possible to improve understanding of this devastating condition."
Hilary Evans, chief executive of Alzheimer's Research UK, said: "We are so grateful to Iwan for lending his voice to this animation and for sharing his family's experiences of a condition that affects so many people across the country. Unfortunately, there is still a lot of stigma surrounding dementia and Iwan's support is helping us tackle this head on.
"We know that dementia is not a normal or inevitable part of ageing but the result of physical diseases that affect the brain. With sustained and strategic investment in research, scientists will continue to make progress in beating these diseases just as they have done with other health conditions in recent history."
For more information about Alzheimer's Research UK visitwww.alzheimersresearchuk.org.