Fifty-nine-year-old completes 100th marathon in tribute to her mum who had dementia
08-Nov-16
Article By:
Charley Walker, News Editor
Susie Hewer from East Sussex,who recently completed her 100th marathon, raising £50,000 for Alzheimer's Research UK, has revealed every marathon was a "tribute to her mum".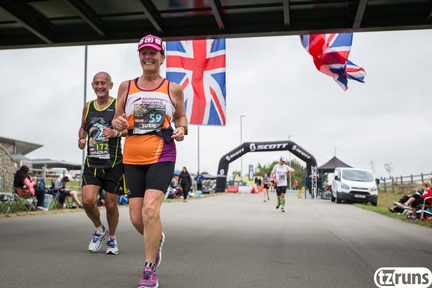 Mrs Hewer beat her original target of 60 marathons by her 60th birthday in June 2017, going on to complete a further 40 marathons.
She also received 'The Vest' – a blue and yellow top awarded by an exclusive runners' club to those who have completed 100 marathons.
Mrs Hewer, who ran her first marathon in 2005 just two weeks after losing her mother to vascular dementia, said: "My dear mum is my inspiration for running and every marathon I complete is a tribute to her.
"Having watched her fade away with vascular dementia, I'm determined to do everything I can to raise money and awareness for the dementia research experts, Alzheimer's Research UK."
Having supported Alzheimer's Research UK for over a decade, Mrs Hewer's latest challenge saw her raise £1,800, bringing her total to almost £50,000.
She said: "I can't believe I've done it, it doesn't feel real. I'm so pleased to have hit my fundraising target too.
"I've become part of such a lovely running community. Everyone is so supportive and my husband Mike has been with me through all of this and was there as I crossed the finish line.
"My 100th marathon was the Cakeathon Marathon, a cake-themed marathon in Deal, Kent. It was a fantastic way to end the challenge."
Mrs Hewer was made a Champion for Alzheimer's Research UK in 2007 in recognition of her sustained fundraising efforts and help raising awareness of the charity.
Rebecca Futrall, regional fundraising officer at Alzheimer's Research UK, said: "Susie has raised nearly £50,000 for Alzheimer's Research UK over a decade and her commitment to helping our scientists find vital preventions and treatments is unwavering."
Guinness World Record holder 'for a very worthy cause'
The 59-year-old's marathon challenge was made all the more impressive as she completed a series of record-breaking runs with a twist.
In 2007 she became the first person to run a marathon while knitting, becoming a four time Guinness World Record holder for creating the longest scarf over the 26.2 mile distance.
Mrs Hewer also set the record for creating the longest crochet chain whilst running a marathon, later beating her own record twice.
She said: "My latest challenge was always going to be hard but it's for a very worthy cause. It took a bit of persuading for me to take on the challenge, but once my mind was set I knew I would finish it."
Rebecca Futrall added: "Susie is one of our greatest supporters and never fails to come up with unique and challenging ways to raise money.
"There are 850,000 people in the UK living with dementia, including more than 10,000 in East Sussex. We are thrilled to see Susie has completed her 100 marathon challenge and we cannot thank her enough for contributing so much to dementia research."