Four out of five UK local authorities admit there is a care shortage for older people in their area, new research reveals.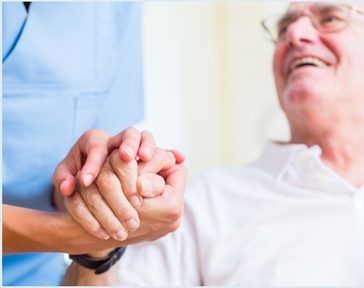 The Family and Childcare Trust's (FACT) Older People's Care survey 2016, (published 21 November) has discovered more than 6.4 million people aged 65 or older live in areas that cannot meet their care needs for care homes and home care.
The survey is based on 182 responses to Freedom of Information requests to 211 local authorities, (86 per cent of all authorities) and Health and Social Care Trusts (HSCTs) asking for average prices for care home and home care services.
While 84 per cent of local authorities said they had enough availability for care home places, that figure falls to 48 per cent for home care.
Those with dementia hit hardest
The care shortages are biggest for the most vulnerable older people with only 32 per cent of local authorities reporting having enough nursing homes with specialist dementia support.
Postcode care lottery
While 57 per cent of councils in the North East reported having enough older people's care to meet demand, the figure drops to seven per cent in outer London.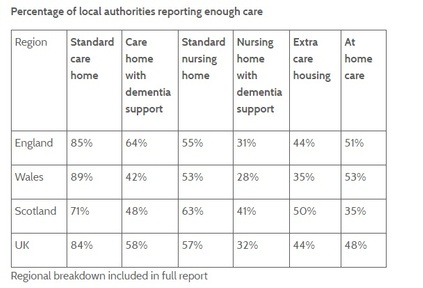 Councils admit knowledge gaps
Local authorities responding to the FACT survey reported large data gaps regarding the numbers of self-funders in their area and the fees self-funders pay to providers.
Nearly three quarters of local authorities in the UK were not able to provide data on the rates that self-funders pay. And almost one third (27 per cent) reported having insufficient data about whether the supply of older people's care in their area could meet demand.
Self-funders may spend £20,000 on home care in 13 months
However, UK averages, calculated by FACT, show self-funder fees for all residential types are 20 per cent more expensive than fees paid by local authorities.
At the average cost of £16 an hour for 21 hours a week of at home care, it will take a self-funder just one year and one month to go through £20,000 worth of savings.
The survey reveals that the average annual rate for one residential care home place funded by a local authority costs £27,113.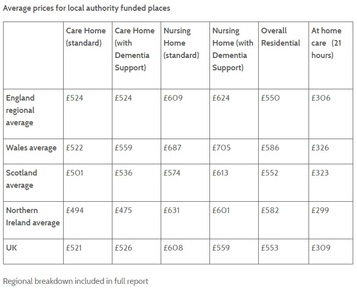 Local authorities in inner London face the steepest funding rates for residential care for older people at £649 a week per place.
That's 40 per cent higher than the cheapest rate for residential care of £464 in North West England.
Property's value will fund person's care for seven years and one month (on average)
If an individual has assets worth more than £23,250 (£23,750 in Wales), they will have to fund their own care. This includes the value of their home (unless their partner is still living in it). Below this threshold, the local authority will fund part or all of the person's care costs.
FACT calculates that the average time it takes an individual to use up the value of their property (before reaching the threshold at which their local authority will fund part or all of their care costs) is seven years and one month, but this figure varies widely by region.
The period of time it takes a person to use up the value of their property in North East England and Northern Ireland is three years and eleven months, while the period of time taken in London is fourteen years and eight months.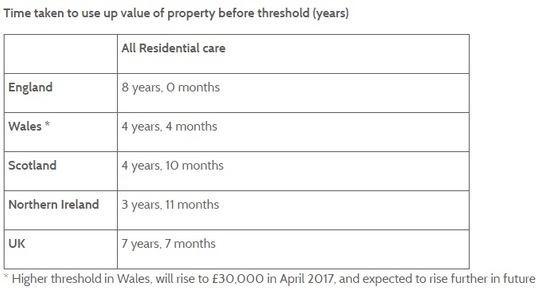 'Give workers a right to 5 days paid care leave'
FACT is calling on the Government to track whether there is enough care for older people across the UK, to give local authorities funding that reflects the cost of care services and give workers the right to have up to five days of paid care leave.
It is also recommending the Government provide up to date information for families about social care in their area, including the cost of fees and third-party contributions.
Claire Harding, head of research at FACT, said: "We urge Government to make sure there is enough care for everyone who needs it. In order to do this, we need robust data on where there are gaps in care, a funding system that truly meets the cost of providing care, and clear information for families.
"Without these steps, families will continue to struggle to find care and to meet the numerous care costs on their shoulders."
To read FACT's Older People's Care Survey visit: www.familyandchildcaretrust.org