The 'baby boomer' generation are being advised not to put their feet up and retire but to carry on working, if they want to stay healthy.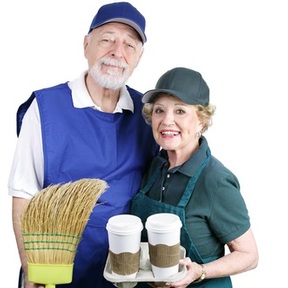 England's Chief Medical Officer (CMO) is advising people aged 50 to 70-years-old to not to slow down but to stay in work paid or unpaid in order to remain healthy for longer.
In her annual public health report, 'Baby Boomers: Fit for the Future', Professor Dame Sally Davies said: "People are living longer than ever and so retirement presents a real opportunity for baby boomers to be more active than ever before. For many people it is a chance to take on new challenges, it is certainly not the start of a slower pace of life it once was.
"Staying in work, volunteering or joining a community group can make sure people stay physically and mentally active for longer. The health benefits of this cannot be underestimated."
The CMO is keen for those born between 1945 and 1964 to improve their health because almost half (45 per cent) of disease in people this age is because of lifestyle choices such as poor diet, smoking and being overweight. The report said two-thirds had not done 30 minutes of moderate physical exercise in a month.
Many health professionals believe keeping social links in the community and being mentally active in a job, could help older people delay conditions such as dementia.
The CMO (herself a baby boomer- aged 67), who has no plans to retire, said: "There are also many opportunities for those of us in this age group to continuously help ourselves, if we decide to."
The report states: "Employers, for example, have a role to play here as staying in good quality work has beneficial health effects."
By 2020, one third of British workers will be aged over 50. More than 75 per cent of people aged between 50 and pension age are still in employment and 12 per cent of people older than pension age already continue to work.
The retirement age – when someone can claim a state pension- is set to rise to 66 by 2020 and 67 by 2028. With an ageing population,some argue Britain needs to adapt by embracing an ageing workforce.
Anna Dixon, CEO at the Centre for Ageing Better said: "The CMO's report confirms the finding of our own research with people in later life: good health, financial security, and strong social connections."
"Keeping physically healthy is fundamentally important as you age. With one in three people aged 50-70 obese, and around two thirds of people not doing enough exercise."
'People shouldn't be forced into working longer'
According to figures from the Department for Work and Pensions (DWP) in 2008, there were 1.3 million people working beyond state pension age.
The motivations to remain in employment past retirement age are varied. A DWP survey found that money was the major reason, cited by 63 per cent of people, whilst 57 per cent said that they enjoyed their jobs and 38 per cent said working helped to keep their mind active.
However, it may be alright for desk workers to continue working in their jobs up to the age of 70. But it is very different for people with physically demanding roles such as cleaning or construction work.
While acknowledging that some companies are employing older workers, a spokesman for the TUC said: "People shouldn't be financially or legally forced into working for longer."
When asked whether he thought the CMO's advice was a good idea, the TUC's pensions policy expert Tim Sharp said: "There's definitely a case for older people being active and remaining in work, but it has to be a positive choice for that individual.
"We know there are real barriers that can stop older people from working. Employers need to help by offering home working, flexible hours, and carer's leave."
Some firms woo the grey-haired workforce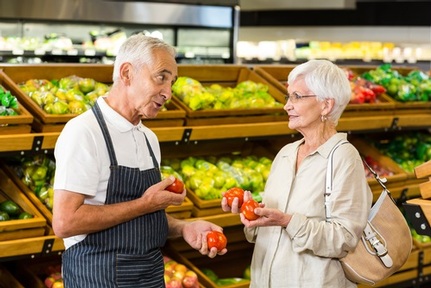 Some companies are already courting the over 50s. Almost a third (28 per cent) of the workforce of retail giant B&Q is aged over 50, while less than a quarter (24 per cent) is under 25-years-old.
The retailer says it has led a 'progressive older worker employment policy' for more than two decades, derived from a project at its Macclesfield store in 1989.
The B&Q store was staffed entirely with employees aged over 50 for a trial period. The retailer soon discovered having 100 per cent of the workforce over 50, led to 18 per cent higher profits for the firm and six times less staff turnover.
A spokesman for B&Q said: "The benefits of employing older workers are that they have greater life experience and a true willingness to work, which means they can pass on their knowledge and skills to customers and younger members of staff."
B&Q became a member of the Employers Forum for Age, a network created by employers 'to remove barriers to an age-balanced workforce' and scrapped the statutory retirement age in the mid 1990's. (England's default retirement age was banned in 2011, so employers couldn't make staff give up their jobs in their 60s.)
'Bored to death' no longer
Loneliness brought about by the social isolation of not 'going to work' is one reason some older people may benefit from continuing to work in their 70s and beyond. While the prospect of working past retirement makes some shudder at the thought, one man considered 'well past it' - retirement age that is - has famously refused to sit at home and take it easy.
89-year-old Joe Bartley said he had felt very lonely after his wife died two years ago. Left with only the television for company, the ex-serviceman described his life as like living in 'solitary confinement'.
But his situation soon hit the headlines recently, when he put an advert in his local newspaper asking for a job to save him from 'dying of boredom'.
His advert read: 'Work wanted. Senior citizen 89 seeks employment in Paignton area 20 hrs+ per week. Still able to clean, light gardening, DIY and anything. I have references. Old soldier, airborne forces. Save me from dying of boredom!'
Mr Bartley, was inundated with job offers and is now serving cakes and cups of tea at Cantina Bar and Kitchen in Paignton.
Lonely no more, Mr Bartlett has been unwittingly following the chief medical officer's advice and is not only chatting with customers and staff, he also receives fan mail and visits from 'tourists' eager to spend a little time with the local celebrity.