Celebrities back 'mighty' fundraising quiz for Alzheimer's Research UK
23-Jan-17
Article By:
Charley Walker, News Editor
Countdown's Rachel Riley and actress Ashley Jensen are calling on the public to host their own 'Mighty Quiz' and raise money for Alzheimer's Research UK.
Budding quizmasters will unite teams on 27 April to "tackle trivia, crack conundrums and face physical feats" all in the name of Alzheimer's research.
Rachel Riley, Countdown star and mathematician, will post eight short Facebook videos to encourage people to host their own Mighty Quiz, posing a new question in each video and asking people to post their answers.
Describing her love of putting her brain to the test, Miss Riley said she "can't think of a better way to raise money for Alzheimer's Research UK."
She added: "Whether trying to name that tune or sculpt a masterpiece from foil, The Mighty Quiz is a great excuse to get your friends together to tackle trivia and put your senses to the test.
"We need Mighty quizmasters across the nation to get their packs and get organising."
The Mighty Quiz is no ordinary quiz, with Alzheimer's Research UK proposing tasks such as spaghetti towers, plank-offs and foil sculptures as fun additions to standard general knowledge rounds, creating a "level playing field" for anyone whose strengths lie outside general trivia.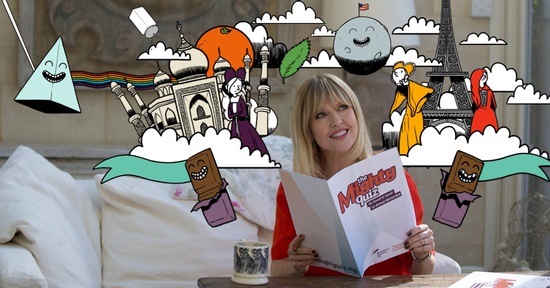 Ashley Jensen, best known for her roles in Ugly Betty and Extras, is also backing the quiz, starring in a 90 second film in which she excitedly organises her own Mighty Quiz.
She said: "The Mighty Quiz is perfect for everyone from the complete novice to the seasoned pro, so why not hold a quiz night for Alzheimer's Research UK?
"Every penny raised will help the charity take one step closer to defeating dementia."
The variation proposed in the quiz means there is plenty of opportunity for every team member to get involved.
Hilary Evans, chief executive at Alzheimer's Research UK, said: "The Mighty Quiz blends traditional quiz elements and challenge rounds, making it accessible to all.
"Mighty Quizzes are easy to organise, with a host of different rounds and challenges to choose from.
"We need quizmasters up and down the country to sign up, and get their friends to go head to head to defeat dementia."
For more information and to watch Ashley Jensen's Mighty Quiz video, visit: www.themightyquiz.org