Bosses in the UK must boost the number of older people in its workforce, to increase the physical and mental health of the country's growing aging population, the Government has said.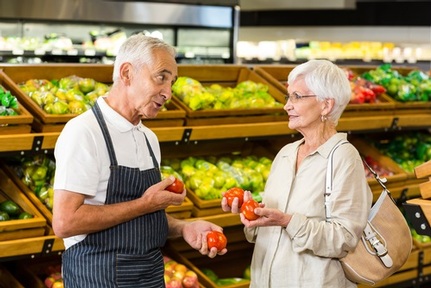 With its 'Fuller Working Lives' strategy, published this week, the Government is encouraging people aged over 50 to reap the benefits of working for longer and the need for businesses to 'retain, retrain and recruit' older workers.
It is estimated that by mid-2030s people aged 50 and over will make up more than 50 per cent of the UK adult population.
Damian Green, the Secretary of State for Work and Pensions said: "Most people are healthier for longer and so are able to extend their careers and take up new opportunities.
"Staying in work for a few more years can make a significant difference not only to someone's income but also their physical and mental health.
"I urge all businesses to reassess the value of older workers. Nobody should write off hiring someone due to their age and it's unacceptable that some older people are overlooked for roles they would suit completely."
The Government wants older people to take advantage of the opportunities work can bring, including finding a new career in later life, if they feel unfulfilled at work.
The strategy says job centres and businesses can combine to support older workers to continue in their careers or take a new direction. The Government's strategy highlights that:
• One in four men and one in three women reaching state pension age have not worked for five years or more.
Anna Dixon, chief executive of the Centre for Ageing Better, said: "Good work is important financially but is also a major source of social connections, good health and provides a sense of purpose.
"We want more people aged 50 years and over to be in fulfilling work that supports a good later life, so we welcome the Government's Fuller Working Lives strategy launched today.
"But this is just the start – to achieve a significant increase will need concerted effort from employers as well as Government, and a change in individual attitudes. This needs to include support for carers, access to lifelong learning, support for people with health conditions and disabilities at work – and an end to ageism in the workplace."
Rachael Saunders, Age at Work director at Business in the Community, said: "Government leadership on this issue is vital, as we mobilise business to take action on age at work.
"This strategy, and the Government Business Champion for Older Workers launch that follows it on 6 February, represent a scaling up of call to action on later life working.
"It is now for business to step up, and retain, retrain and recruit the older workers who are vital to the success of UK business, as they are the employees of today, and the talent pool of tomorrow."
Legislation has been introduced to support the strategy, including the removal of the Default Retirement Age. To support the employment of older workers, the Government said it is continuing to give support through jobcentres for older workers, e.g. Older Claimant Champions being introduced in all Jobcentre Plus areas.
Can Post-Brexit era afford ageism in the UK workplace?
Caroline Abrahams, charity director at Age UK said: "There's a burning need to prevent people falling out of work in their 50s and early 60s so we're pleased the Government is proposing firm action.
"There's still a lot of ageism in the workplace and much more needs to be done to create a level playing field for all older workers - and not just those in better paid jobs.
"For example, Age UK wants to see more done to boost the numbers of older workers who get access to training, since in a rapidly changing economy they need the skills for the new jobs that are being created.
"Post Brexit, our national prosperity will depend to a significant degree on our capacity to support older workers to continue to be productive, in jobs they value and in which they are able to thrive.
Help for people with disabilities?
The Government has said it is providing help to those who may need more support getting into and staying in work, including people with long-term health conditions and disabilities.
However, disability campaigners argue the Government's decision from this April to cut £30 a week from Employment and Support Allowance (ESA) and Universal Credit, will thwart its own commitment to get more disabled people into work.
The Work and Pensions Committee today (3 February) published a report calling 'ambiguous at best' the Government's evidence that cutting the disability benefit ESA will incentivise disabled people to find work.
There are 1.4 million people with a learning disability in the UK.
Disability campaigner Mencap has produced a report, 'Halving the Gap', which states that reducing ESA will undermine the Government's commitment to halving the disability employment gap.
Rob Holland, parliamentary manager at Mencap, said: "The evidence suggests that this £30 a week cut will push disabled people further from work, closer to or into poverty as well as affecting their health.
"From April 2017 new claimants will feel the effects of receiving a third less of a benefit that many desperately rely on to make ends meet.
"We urge the Government to halt this cut before its introduction."
To view the 'Halving the Gap' report visit: mencap.org.uk/esa-review
To read the Government's Fuller Working Lives strategy visit: www.gov.uk/government/uploads/system/uploads/attachment_data/file/587654/fuller-working-lives-a-partnership-approach.pdf