BBC documentary pays tribute to Sir Terry Pratchett who 'waged war on dementia'
09-Feb-17
Article By:
Melissa McAlees, News Editor
When writer Sir Terry Pratchett passed away in 2015 at the age of 66, he was working on one last story: his own. But having lived with a rare form of Alzheimer's disease since 2007 meant he was not able to finish it.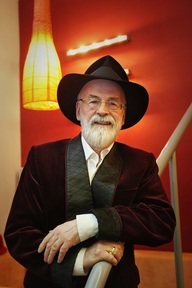 This year, the BBC has decided to celebrate some of Britain's biggest cultural heroes. Among their subjects is Mr Pratchett, an English author who has sold more than 85 million books worldwide in 37 languages.
On Saturday 11 February, BBC 2 will air 'Terry Pratchett: Back in Black', a documentary billed as poignant and humorous, revealing that his road to success was not always easy, from his troubled schooldays to being dismissed by literary critics, to his battle with Alzheimer's disease.
The BBC official website explains: "This poignant and humorous documentary finally tells the remarkable tale of this hugely popular author, the creator of the Discworld series of fantasy novels.
"Back in Black reveals that Terry's road to success was not always easy, but knighted by the Queen, adored by millions of fans and with a legacy of 41 much loved novels - Terry Pratchett is still having the last laugh."
Starring Paul Kaye as Mr Pratchett, the film is told in his own words with assistance from Neil Gaiman, Val McDermid and his long serving assistant, and now business manager, Rob Wilkins.
As well as his journey to success and his contribution to charity, the documentary will chart his long battle with Posterior Cortical Atrophy, a variant of Alzheimer's disease, and the effect it had on his life.
As the documentary prepares to air, Alzheimer's Research UK has paid tribute to the author who became a Patron for the charity in 2008.
Hilary Evans, chief executive of Alzheimer's Research UK, said: "Sir Terry enriched the lives of many, through both his profound effect on literature and those living with dementia.
"In 2008, he took to the stage at our annual conference to speak publicly about his dementia diagnosis for the first time. Brimming with his trademark wit, but with an honesty and openness about his diagnosis rarely heard before him, this 15-minute speech proved to be a watershed moment for the 850,000 people like him living with the condition in the UK.
"From that moment, Sir Terry waged war on dementia, helping to engender huge public awareness of a condition often swept under the carpet. This personal crusade was backed by a $1 million donation to research from his own pocket."
According to Ms Evans, Mr Pratchett's calls on government to increase research funding, coupled with an openness about his condition that led to influential documentaries and public appearances, helped change the conversation around dementia.
"Sir Terry was and remains an enormous motivation to people with dementia, our supporters, staff and the thousands of scientists who are battling this condition," she added.
Terry Pratchett: Back in Black will air on BBC 2 from 9pm on Saturday 11 February.