Far from being a thankless task, carers at the home care firm Heritage Healthcare (Ealing & Richmond) have been congratulated by a journalist for giving him the best care he's received in more than 30 years of using home care services.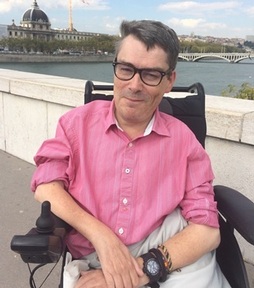 Andrew Walker, aged 52, has muscular dystrophy and is able to work full-time as a journalist for a major London news organisation because of the 'cheerful' and 'efficient' care he receives in his home.
The journalist posted a review thanking staff at Heritage Healthcare (Ealing & Richmond) on the leading home care review site, homecare.co.uk, saying: "I am delighted by their professionalism, efficiency and cheerfulness and I would recommend them very highly.
"Care and assistance is of the highest level. The carers are always on time, attentive and kind to me. "I have a fairly tight schedule in the morning, as I have to leave for work. But I never feel rushed and the mornings go very smoothly indeed."
At the age of five-years-old, Mr Walker was diagnosed in 1969 as having a rare form of muscular dystrophy that causes progressive weakening of muscles. He says: "Up to that point, I could walk but as the years went by I became a wheelchair-user."
Having lived with help from home care providers since 1985, it is care workers at Heritage Healthcare (Ealing & Richmond) who have been supporting him every morning and one night a week since February 2016. He receives assistance getting in and out of bed, help with going to the toilet, washing, laundry and household cleaning.
"I require help with personal care, especially with anything involving lifting but can cook and feed myself and remain pretty much independent during the day."
He says: "I am physically weak" but describes his job as "challenging". As a senior producer working for a major news organisation in London, he says "there is no typical day."
Trump and other news keeps him busy
"I normally work from 9.30 in the morning to 7.00 in the evening and frequently longer. I commission, edit and produce text pieces from a worldwide network of reporters and correspondents, so one day can see pieces on the effect of Brexit, extrajudicial killings in south-east Asia and the impact of President Trump on newspaper subscription levels in the US."
Summing up his care workers as "motivated, cheerful and highly attuned to both me and my needs", he says the company and the carers are well organised and "listen to me". "This means that there is rarely a rush to do things and everyone is relaxed."
Mr Walker's view of the home care he'd received prior to using Heritage Healthcare (Ealing & Richmond) was mixed. "Care varies wildly between companies, due to different management and training cultures, the personal qualities of individual carers" and "how they react" to feedback him gives them.
Small details like flowers remembered
Referring to staff at the Heritage Healthcare franchise, he says "I am impressed by the many times that carers have remembered even the smallest detail of my needs. It's a real pleasure and relief not to have to constantly remind them, as is the case with almost all the home care providers I've had in the past, of small things that I'd like them to do."
His current care workers "sort through my clothes cupboards and keep them very tidy. The company sends a carer to ensure that someone is in my flat when the engineers call to test my hoist."
"I like to help as much as I can and don't expect the carers to do absolutely everything. Constant feedback is so important for everyone."
But he says his care workers even go so far as to "arrange my cut flowers each week".
Husband and wife team Ivan and Daniella Coutinho began running the Ealing & Richmond franchise from Heritage Healthcare in 2014. While Ivan Coutinho uses his business experience to run the administrative side of the franchise, Daniella's 10 years' experience, working for big home care providers, informs her work as care manager.
With a headcount of 54 people, he says the franchise has grown quickly catering primarily for the private market as well considering local authority work "to help people get home" from hospital.
"We won't take volume contracts but we will offer spot contracts if local authorities need it. "We always do our assessment before we agree to work" Mr Coutinho says.
Rated Good by the CQC in May 2016, the franchise is aiming for Outstanding and has a small team of four to five carers who know the journalist's routine, needs and have been introduced to him.
"For Andy, it wasn't anything different that we'd do for anyone else. We listen to what a person needs. The care depends on the character of the person. Some people you can't go in all smiling and joking because it doesn't fit with their character."
What does good care look like?
Care manager Daniella Coutinho agrees. "It's about that personal relationship.
"We were very, very happy with the review he's given us. Andy chose us to provide his own care. Getting reviews like this, makes us happy to know that we make a difference to our clients' lives.
"The care we provide actually helps people fulfill their own daily needs and dreams. We want to be more than just carers. We go in with a smile because we want them to have a good start to their day."
'Picky' about hiring people who do care
She says: "We train our staff when they join us and we are very picky with the people we recruit. We recruit people that actually care. Not just people in it for the money or a little job on the side. "If you are observant and you look at the small details, it actually makes a huge difference. It makes that person feel fulfilled and happy.
"I say to the carers, even if it's a medication visit, go in and be observant. Don't ignore the other aspects of a person's life. Is the house clean? On the subject of safeguarding she says monitoring services continuously is so important because then you can pick up on issues before they become big issues… when a carer maybe didn't understand something and did something that wasn't right or a client's wishes are not respected.
"If a home care company hasn't looked at raising safeguarding issues, it means they haven't done their job properly" she says. "The reason we chose Heritage Healthcare is they had exactly the same beliefs as we do. We're not interested in doing volume care that you can't manage.
One sugar or two?
"When we prepare a careplan we find out fine details…how does he likes his tea…with sugar? …with milk? In training, I tell staff imagine how you like your tea and you keep telling someone every morning and they get it wrong, that will really irritate you."
Mr Walker agrees: "The essence of care is just that: care; people taking an interest in the client, turning up on time, having a chat and a joke."
When asked, what compelled the journalist to post a review on leading homecare review site homecare.co.uk, he says: "I wanted to do something to ensure that Heritage was given the thanks and praise it deserves. It's by far and away the best care I've received in more than 30 years of working with homecare companies. It's important to give thanks for that."
• The reviews of home care services on homecare.co.uk help individuals and their families choose a setting that is right for people needing care. Homecare.co.uk to date (1 March 2017) has 3,859 reviews of home care services.