A fundraiser for Alzheimer's Research UK is set to brave a 250km ultramarathon through the Sahara Desert in memory of her grandfather.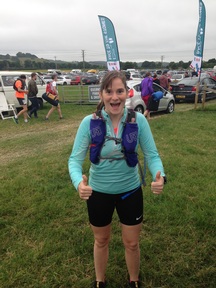 Georgie Peters hopes to raise £1,500 for Alzheimer's Research UK by completing the Marathon des Sables, dubbed 'the toughest footrace on Earth', in 50 degree heat, carrying a week's supplies on her back.
She will be taking part in memory of her grandfather, Alfred Castle, who died from Alzheimer's disease in 2006 at the age of 90.
Ms Peters, a PhD student in archaeology at the University of Cambridge, said: "I have lovely memories with my grandad Alf.
"He was so much fun, he'd always try to make me laugh and he cared so much for his family, working two jobs sometimes to make sure everyone had what they needed.
"He couldn't recognise my mum or aunt towards the end, it was just totally devastating for all of us. Then losing my auntie Sharon just six months later was even more heartbreaking, it was very tough for my mum.
"I decided that I wanted to do the Marathon des Sables over a year ago, and I knew that if I got a place I would want to raise money for dementia research."
Ms Peters also plans to donate her fundraising total to the charity Bloodwise, in memory of her auntie Sharon who died from leukaemia, while her friend and marathon partner Charlotte Geen will be raising money for Cardiac Risk in the Young (CRY).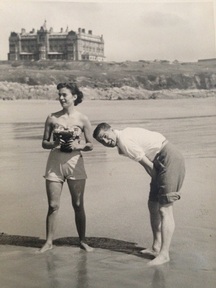 The pair are preparing for the race with an intensive training programme to make sure they are not among the many participants who drop out every year.
Throughout the seven-day challenge, a camel stays at the back of the pack and if it catches up with participants they are then be told not to continue.
Ms Peters, who will begin her challenge in April on her 30th birthday, added: "I'm building up to the event by doing three or four hours of walking at a time with a backpack on, often with all my work stuff inside.
"Hot yoga is also something I'll be doing as the day gets closer to acclimatise to the heat.
"All donations will go straight to the charities as I have covered all race costs. I'm nervous but equally so excited."
James Warren, regional fundraising officer for Alzheimer's Research UK, said: "We are in awe of Georgie and the lengths to which she will go to raise money for vital dementia research.
"There are 850,000 people living with dementia in the UK. Alzheimer's Research UK is funding the best research to find treatments and preventions for dementia.
"We will be supporting Georgie as she takes on this gruelling challenge, and we wish her the best of luck."