It is estimated that 700,000 people in the UK are caring for someone with dementia. Much of the cost of dementia care is met by unpaid family carers, who save the UK economy £11.6bn. Whilst caring can be a rewarding experience, it can also have negative effects on the carer as they cope with the changes that their loved one is going through and adaptations to their own lifestyle.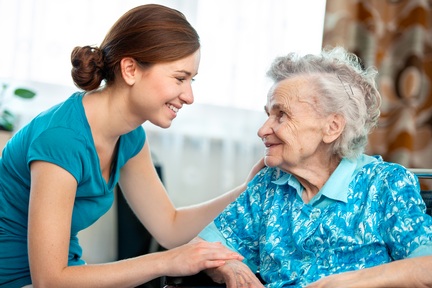 Due to the progressive and unpredictable nature of the condition, carers of people with dementia often report high levels of stress, anxiety and depression.
A new study is inviting people who care for someone with dementia to help investigate whether an online 'Caring For Me and You' therapy can effectively reduce feelings of distress.
Clive Ballard, professor of age-related diseases at the University of Exeter Medical School and lead investigator of the study, said: "Caring for someone with dementia can be rewarding, but also be stressful and frustrating. It can result in anxiety or depression, both in carers and in people with dementia. We need to find effective ways to support carers in looking after their own needs as well as the person they care for.
"Carers have traditionally found advice sessions helpful and early evidence indicates that online cognitive behavioural therapy could also help reduce distress in carers. We now need people to sign up to our trial to find robust answers on whether rolling this out could make a real difference and improve lives."
Heavy toll of dementia care
The strain of caring for two parents with dementia took a heavy toll on Madeleine Maddocks. At her depths, she became severely depressed and was diagnosed with Graves Disease, an overactive thyroid exacerbated by stress.
Ms Maddocks, who lives in South Devon, describes caring for her parents, Stuart and Jan, who lived between Bristol and Bath as 'physically and emotionally draining'. Although more than 100 miles away, Ms Maddocks was on call 24/7 and often made the trip when her phone rang in the middle of the night.
Her father, Stuart, was diagnosed in 2005, at the age of 71 and died nine years later in 2014. The lowest ebb for Ms Maddocks was when her mother, Jan, also received a diagnosis of Alzheimer's in 2013. She died just 18 months after her diagnosis.
Ms Maddocks said she grieved her parents from the point of diagnosis, while trying to cope with the emotional drain of caring for them. "I was incredibly depressed, anxious and completely exhausted all the time. My husband said he felt like he was a carer for me.
'I became a victim'
"I became a victim – I was just so crushed by it all. At that point I was diagnosed with Graves Disease, which has particular complications when combined with stress. I experienced symptoms such as extreme fatigue, forgetfulness, eyesight deterioration, hand tremors and trouble sleeping."
Mrs Maddocks tried counselling and Cognitive Behavioural Therapy (CBT), but said the service seemed over-subscribed and was 'constantly afraid' an appointment would clash with the need to attend to her parents.
"I really welcome the online nature of the Caring For Me and You programme," she said. "When you're in that position, it's hard to find the strength, confidence and time to go to support groups. Having something online is much more flexible and accessible. I think it will help a lot of people, as a vital first step."
Mrs Maddocks is now starting to rebuild her own life. "I used to wonder if I would ever feel happy again. Now I do have moments of happiness, but I'll always carry the sadness of those years."
'Carers health and wellbeing can often be overlooked'
The 'Caring For Me and You' project, developed by the Alzheimer's Society and psychologists working at Oxford Health NHS Foundation Trust, aims to find out whether online therapy packages can be effective in helping to reduce carers feelings of distress.
Participants will be allocated one of three packages: an online CBT package; an online CBT package with additional telephone support; or a carer information and education package about dementia.
Those taking part in the trial have up to 26 weeks to complete 20 online sessions.
At the end of the study, researchers will analyse the results and determine what has been most helpful for carers in improving their wellbeing.
Dr Jane Fossey, associate director of psychological services at Oxford Health NHS Foundation Trust, said: "We have consulted carers and used the latest evidence to tailor both the therapy and the educational package to the needs of people who care for someone with dementia.
"We now want to know how effective they are and whether the online approach works to give convenience and flexibility. By signing up, carers will receive tailored online support, whilst helping us collect the evidence to create strategies that really help support carers."
Dr Doug Brown, director of research and development at Alzheimer's Society added: "Even in areas where face to face therapy is available, carers tell us finding time to attend sessions or organising cover for the person with dementia can be very challenging or stressful. Being able to log on at home and access online therapy has the potential to transform the lives of tens of thousands of carers and help support their health and wellbeing which can often be overlooked.
"We're calling on carers to join the study to help us find out what kind of online support can help carers to manage stress, anxiety and depression."
The project is being supported by The Department of Health, Nominet Trust and the Stavros Nicholas Foundation.
For more information, visit www.caringformeandyou.org.uk.