Comedian Michael McIntyre's joke about "doing tai chi" in public toilets to activate motion sensor taps is funny to most of us, but for people living with dementia this kind of non-traditional method can be a source of serious anxiety and frustration.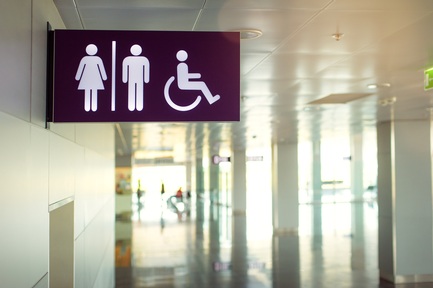 Struggling to successfully navigate toilets, be it public or otherwise, can mean people with dementia are incorrectly diagnosed as having become incontinent, when in fact they are simply experiencing problems with using the toilet, which can be easily rectified.
According to the Social Care Institute for Excellence (SCIE), these problems can include not being able to find the toilet and experiencing difficulties with one or several stages of successfully using the toilet.
Mary Marshall, professor emeritus at the University of Stirling, writes and lectures on dementia design and has been campaigning for dementia-friendly toilets "for donkeys' years."
She explained: "The thing about dementia-friendly public toilets is that you have to understand the impairments of both old age and dementia to understand what the problems are.
"If we're talking about the normal problems of ageing, we're talking about impaired vision, things are hazier, you're not so good at contrast, you're not so good at colour. Sometimes you have problems with your ears and you often have problems with your balance.
"So most of us can cope because we know we have these problems and we work it out. However, if you have dementia on top of that, it's much more difficult to understand you've got these impairments, to understand what you're looking at, and to cope.
"For example, if there isn't enough contrast between the toilet and the floor, the toilet and the walls, and you can't see it, you're not going to be able to work out where it is."
Lack of signs and instructions an issue
Modern facilities and a lack of consistency can cause great confusion for people with dementia. Very rarely now do public toilets feature traditional hot and cold taps, while motion activated towel dispensers and Dyson Airblades are far from what a person with dementia might be used to.
The problems and distress that can arise from this could be easily resolved with simple signs and instructions.
Professor Marshall, often helps people who look stuck or lost in public toilets and admits that "it sounds stupid, it sounds funny talking about it" but highlighted that it's "desperately important."
"I'm amazed how seldom there are signs that say 'Dryers' or 'Hands in here' or something. It's in tiny writing on the machine usually," she said.
She also highlighted the importance of signage directing people towards the toilets in the first place, as what many people may believe to be self-explanatory, can in fact be quite confusing for a person with dementia.
Signs tend to be placed above toilet doors or on the walls next to the entrance rather than on the doors themselves, so people with dementia may not be able to work out that the door – provided it stands out enough from the walls – leads to a toilet.
"Sticking the wheelchair logo on the front will work for some people but actually that doesn't say 'Toilet' it says 'Disabled' so some people might think 'Oh this is where the toilet should be so I'm going on in,' but some people that won't help," Professor Marshall explained.
The same problems arise upon exiting the toilet. Basic 'exit' or 'way out' signs are generally absent in public toilets as many people would know to go out the way they went in. But for a person with dementia, this is not the case and exit signs help them to find their way out.
Kathryn Smith, director of operations at Alzheimer's Society, said: "People with dementia can get lost in toilets and cannot find their way out, particularly if there are multiple entrances or exits.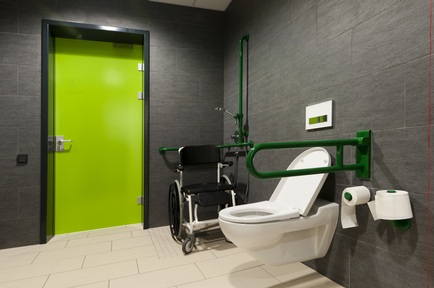 "Dementia-friendly toilets can reduce these barriers, greatly improve the safety of people with dementia and preserve their independence for as long as possible. There are a number of simple ways councils and businesses can help create dementia friendly toilets. These include exit and entry signs on doors."
Simple initiatives can alleviate anxiety
Inaccessibility of toilets is one of the most problematic things for people living with dementia as they feel they cannot go out, and everyday environments such as large shopping centres become anxiety-inducing situations if toilets cannot be easily located and accessed.
In a bid to make its community more accessible, Burnham Parish Council recently incorporated dementia-friendly aspects when renovating its Jennery Lane public toilets which reopened in February 2017 after almost a year's closure.
Sheridan Edwards, parish clerk, explained: "When I started work in Burnham the plans for the toilets were already well underway.
"The architect was leading on the dementia-friendly aspects of the work, which primarily focussed around ensuring a strongly-contrasting colour scheme.
"The main walls are a lime green, with sanitary ware, sinks and toilet roll holders in white, toilet seats in black, flushes in silver and partitions in a light grey. There's also a consistent neutral floor colour throughout and a non-slip surface."
Contrast is possibly the most widely known and accepted way of adapting public toilets to accommodate for people with dementia, which Professor Marshall attributes to lobbying from visual impairment charities.
"What is striking in the last little while is how many have at least got it right for visual impairment," she said.
"You are seeing with toilets, more understanding of the importance of contrast and that's really good. They still don't understand the rest of it but they're inching in the right direction."
'The main thing is thoughtlessness'
It does not take much to make toilets accessible. Thought and consideration is the primary way to resolve the issue, according to Professor Marshall, who says that, despite the coyness surrounding the topic, it is too important an issue to not talk about.
When teaching on design, she illustrates her points with pictures of toilets that she has taken over the years, at which her audience laughs every time without fail.
"I think a lot of people get embarrassed but I'm too old to bother with that, it's too important as well," she said.
"They take it for granted and they also don't talk about it but I think quite a lot of people struggle, you know it's not always older people that I'm helping in toilets by any means.
"I think at the back of this there's a degree of coyness – 'Ooh we don't want to talk about toilets!' 'Oh, no thank you!' – which has got to be dealt with because this is serious.
"It doesn't cost any more to do it right, it just doesn't. What it costs is stopping and thinking. It costs more because buying the standard products is not always a possibility but the cost differences are negligible.
"What we really need to do is get the manufacturers to provide the right products in the first place, so a standard issue vacant/engaged thing is more understandable, and that there's more publicly available signage because stick figures and an arrow does not work.
"The main thing is it's thoughtlessness."
A fervent advocate of dementia-friendly toilets, Mary Marshall is currently writing a manual on the topic, which will be available online in the coming months.