A family-run hairdressing salon has named Alzheimer's Research UK charity of the year and has already raised over £1,000 in honour of a loyal client of 12 years.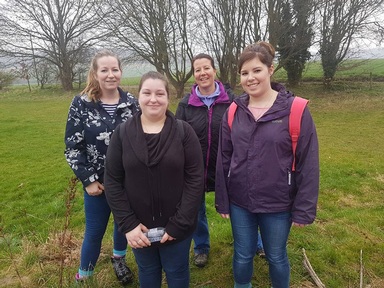 Penny Jarvis was a long-standing client of Saints Hairdressers before sadly passing away in October 2016 at the age of 72.
In memory of their loyal customer, a group of four team members from the salon are on a fundraising mission for Alzheimer's Research and are training for a sponsored Mount Snowden climb in May.
Sarah, who has owned Saints for 12 years, said: "Penny had been a client for many years, just after we first opened. She was the sweetest, kindest person and always brought a ray of sunshine whenever she visited.
"She loved being pampered, having her hair and nails made beautiful by us and catching up on everyone's news.
"We could see her struggling and each time she came in it was a little worse. Her partner Mike would bring her in and I like to think that we helped him too. It was beneficial for him to be able to leave her with us and go for a wander knowing that she was safe.
"Penny was a beautiful woman, she had a young, positive outlook on life and that has resonated with all of us."
The team is also holding a monthly raffle with hampers of hair and beauty products, chocolates and sweets, and they have already raised over £1,000 for the charity.
"All of our regular clients know about our fundraising and why we are doing it. People have been so incredibly supportive and generous in their donations- it's wonderful!" Sarah said.
"We chose Alzheimer's Research UK because we want to see dementia stopped once and for all so that no one has to go through the tough times that Penny and Mike experienced together."
Ms Jarvis was a "high-flying PA secretary" according to her partner of 30 years, Mike, with whom she spent 14 months living on a sailing boat in Mallorca.
He said: "We travelled extensively together and made so many happy memories.
"I really appreciate everything Saints are doing. It really is wonderful to see how much of an impact Penny had on everyone. I hope one day no one has to know the word dementia."
Jessica Sayer, regional fundraising officer at Alzheimer's Research UK, said: "We can't thank Saints enough for selecting Alzheimer's Research UK as their charity of the year, and for raising over £1,000 so far.
"In the UK there are 850,000 people living with dementia. Alzheimer's Research UK is leading the charge to find treatments and preventions for dementia, which couldn't be done without our generous supporters like Sarah, Emma, Amy, Vicky and David."