The care sector is mourning the loss of Bhavna Emery-Jones, who has died from a brain tumour.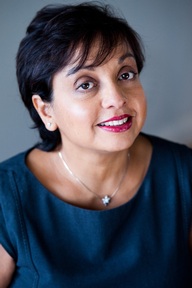 Bhavna was diagnosed with glioblastoma in September 2013 and during that time became an ambassador for the Brain Tumour Charity. She tirelessly fundraised thousands of pounds for the charity and helped to spread awareness of the disease.
She spent over 20 years of her life working in the care sector which culminated in her own health and social care consultancy, BJ & Associates Ltd.
Bhavna also held director roles at HC-One, Priory Group and Bupa and prior to that trained as a radiotherapy radiographer.
Her brother, Dr Chai Patel, chairman of HC-One, paid tribute to her, saying: "Bhavna will be hugely missed.
"She will be missed most of all as a wonderful mother, sister and wife – a person much loved and cherished by her family. Her courage in facing her illness since 2013 has been inspirational. She displayed strength and determination right until the end of her life, helping to raise large amounts of money for charity on the way."
He also spoke about her impact on the care sector, saying: "She started her career as a radiographer and provided immense emotional support and sensitivity to vulnerable patients, little knowing that she would have to draw on that strength herself with her own health struggle later on in life.
"I am grateful for and have been deeply touched by, the many messages from friends and former colleagues across the care sector received since Bhavna passed away.
"Bhavna's contribution to the care sector was very significant, in a career that included Bupa, Court Cavendish, The Priory and latterly HC-One where she made a particularly important contribution at the start of the company in 2011."
We have lost one of the best'
Davina Ludlow, director of carehome.co.uk said: "I cannot express how I feel about losing such a lovely friend. From the first moment we met we knew we would be friends forever, never thinking forever would be so short.
"My memories of her are too numerous to mention, her support to me and my mum when she was in a care home will never be forgotten and can never be repaid.
"We have lost one of the best."
'Very loyal and dear friend'
Martin Green, chief executive of Care England called her "a passionate and committed professional, who has been involved in the care sector over many years and who has had leading roles in a number of organisations, particularly at times of change and transition".
He added: "As well as being a powerful advocate for the care sector, she was a very loyal and dear friend to many of us and I am going to miss her tremendously, on both a personal and a professional level."
Nadra Ahmed, chair of the National Care Association, revealed that "to know Bhavna was to love her. She did not let her diagnosis define her and will be in my memory as the vibrant person I met some decades ago as we both started in our chosen careers.
"Her enthusiasm was infectious reflecting her zest for making the most of everything. She never sought attention and much of what she did will go unrecognised but she did it because she believed. Her footprint will inspire many in years to come. RIP Bhavna."
'Friendly, welcoming and upbeat'
Jane Ashcroft, chief executive of Anchor also paid tribute, saying: "I met Bhavna in my first week in the care sector – she was friendly, welcoming and upbeat, which are the attributes which ran through every time we worked together as our roles changed in the subsequent 20 years.
"She brought marketing prowess and business development skills to the sector, but always with a focus on the residents' experience. Always 'well turned out' she taught me how to wear a scarf – or tried to! Her strength and determination in the last few years were amazing and I feel very sad for her family, friends, and for the sector at her loss."
'She has left an indelible mark on my personal and professional life'
Professor Irene Gray, who has been a board director in seven NHS organisations and also a director of care for Southern Cross Healthcare, revealed: "It was back in 2011 that this strong, professional woman walked into my office. It was immediately evident that she was extremely knowledgeable and extremely professional in everything associated with the care home business.
"I was struck by her humility and immediately warmed to her and I had the privilege of working with her in a business transfer over the next four months.
"Over the following two years we had little contact, but fate brought us together again and in 2014 we were sitting down to plan the launch of a new joint venture along with Teresa, a fellow colleague. The Royal Society of Medicine lounge bar, was host to many visits from us and on more than one occasion our laughter broke the relatively stoic silence! You can only imagine the stares from our fellow members!
"Following many planning meetings in several venues around London, including the odd restaurant and of course with a glass of wine, we finally launched our partnership with great fanfare along with our first commission – generated of course by Bhavna!. Whilst she wasn't well enough to actively engage in the commission, she kept us in check and continued to challenge our thinking. Over the next eighteen months, we had incredible fun and opened many doors.
"This encounter with Bhavna was all too brief, but not so brief in that she has left an indelible mark on my personal and professional life. God keep her safe. Until the next time Bhavna!"
'Inspiration to all of us here'
Bhavna did a huge amount of fundraising and campaign work for The Brain Tumour Charity and was an "inspiration to all of us here", according to its chief executive, Sarah Lindsell, who said: "She was a tireless supporter of our work, even as her health began to deteriorate.
"She and her family helped to raise the profile of brain tumours through campaigning alongside us for more research into the disease. Bhavna attended events in Parliament and shared her own experience of living with a terminal glioblastoma.
"None of us will forget her courage last year when she crossed the finishing line at The Twilight Walk, our annual fundraising event in Windsor. Through her campaigning, fundraising and volunteering, Bhavna was determined to help others affected by brain tumours.
"We will remember her with gratitude, affection and great respect as we continue our efforts to defeat this devastating disease. Our hearts go out to all of Bhavna's family and friends following their loss."
"Anyone who wishes to mark Bhavna's life is asked to support the Princess Alice Hospice, where Bhavna was looked after so well. Donations can be made via this link: https://www.pah.org.uk/