Ex-footballer Wayne Bridge joined Andy Murray's mum to play a charity football match, after singer Pixie Lott persuaded them to fundraise for Alzheimer's Research UK.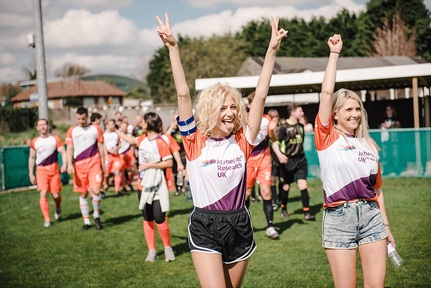 Pixie Lott may have got stars from the world of music, stage and sport to compete against each other on a pitch in Kent on Sunday (2 April), but it was the singer who scored twice to earn her celebrity side an 8-8 draw.
The singer arrived for the match fresh from performing her new single 'Baby' on The Voice UK final, the night before (Saturday 1 April).
Pixie Lott said: "It's been amazing, we've had so much fun.
"I haven't played football since primary school and it's been so good, everyone's got stuck in.
"This is my first charity football match and it's been perfect.
"We've seen dementia first-hand and it's so sad. It really affects a person and changes them and it's devastating."
In memory of Pixie Lott's grandmother Peggy Bennett who died of vascular dementia, the singer's uncle Ricky Bennett aged 47, is running in this year's London Marathon for Alzheimer's Research UK.
Peggy, who lived in Sidcup in Kent, died in 2014 at the age of 83. Pixie is also raising money for the charity in honour of her other grandmother on her mum's side, Amelia Martin, who had Alzheimer's disease and died at the age of 84 in 2012.
The singer added: "I've seen it on both sides of the family and how it affects everyone. All the work Alzheimer's Research UK does is so important and I'm so happy with the turnout today."
Hundreds of people packed into VCD Athletic FC stadium in Crayford, Kent to watch the match, which ended in a draw.
The celebrity line-up included Pixie Lott's fiance Oliver Cheshire and The Saturdays singer Frankie Bridge who played alongside her husband the ex-professional footballer Wayne Bridge.
Judy Murray: 'I'd rather do anything than play tennis in my spare time.'
Andy Murray's mum Judy Murray, comedian Matt Richardson, Downton Abbey's Matt Barber, YouTube star Luke Franks and musician Hobbie Stuart also played in the celebrity team.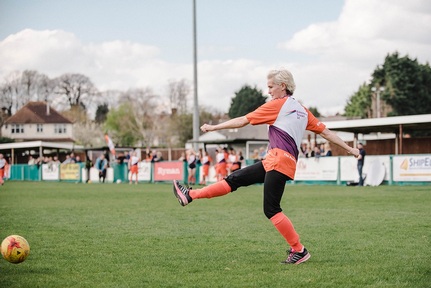 Tennis coach, Judy Murray said: "I really enjoyed the day. The whole thing was just about having fun and having a bit of a laugh.
"If I have spare time I'd rather do anything than play tennis. To have a good old run around in the sunshine was just lovely. Football is completely different to tennis, the football pitch is so much bigger.
"Everybody knows someone who has lived with dementia and it's a great way to raise awareness and money for Alzheimer's Research UK."
'Horrific and sad but he says some really funny stuff'
Comedian Matt Richardson said: "My grandad has dementia. As much as it's horrific and sad he says some really funny stuff. It's eeking into my standup. If you don't laugh you'll cry.
"I see my grandparents a lot, they live fairly close. My grandad has had dementia for the past couple of years and my nan finds it really tough. Some days it's fine, some days it isn't.
"One day he wasn't in the house and we panicked and thought he was missing, but it turned out he'd just wanted to go and get some food. We said 'why didn't you ring us?' and he said 'I never used to, why would I now?'"
Frankie Bridge said: "I was doing a version of football, my own version because I haven't got a clue what I'm doing. "It's something that quite a few of my grandparents have had so I've been around it quite a few times. It can be so sad for everyone and it's so common."
Ex-footballer Wayne Bridge said: "It's a great charity especially when those around you have lived with it. The more you learn about it the better and it's great to support the charity."
Pixie's nan was 'too far gone' to go to Pixie's concerts
Pixie's uncle Ricky Bennett, who is the joint manager of Erith Town FC, fielded a side made up of ex semi-professionals from Concept Old Boys, the veterans' team he plays for every Sunday.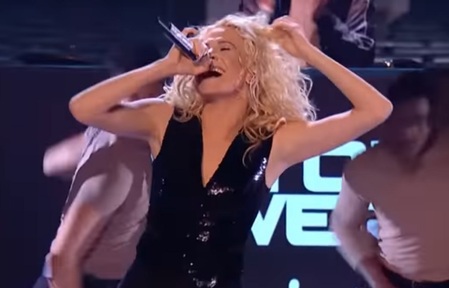 Mr Bennett said: "My mum was a very strong woman. She brought us up singlehandedly. Mum started to get all her grandchildren's names muddled up.
"She loved football and has shaped my love of the sport. Sadly, by the time Pixie was holding concerts, she was too far gone to go to one."
Before today's match, Mr Bennett had already raised £1,590 in fundraising for his £3,000 target for his London marathon run on 23 April.
The football match raised over £3,700 for dementia research, helped by raffle prizes including signed England shirts by ex-footballer Gary Lineker and an evening for 15 at Mahiki Club in London's Mayfair.
The celebrity players have all signed and donated their match-worn shirts to boost funds further. An online auction starts this week at www.ebay.co.uk/usr/alzheimersresearchuk.
Kenneth Foreman, sporting events manager at Alzheimer's Research UK, said "We can't thank Ricky and Pixie enough for holding this incredible event.
"The event has raised vital funds for the charity, but also crucial awareness of a condition affecting over 850,000 people across the UK."
To donate to Ricky Bennett's fundraising page, go to www.justgiving.com/ricky-bennett3