Charles Eugster, who wrote the book 'Age is just a number' has died at the age of 97, from complications following heart failure.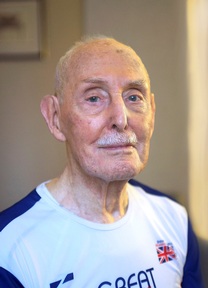 The retired dental surgeon, who became known as the 'World's fittest old age pensioner' broke the 200m world record last year in the over-95s age group at the British Masters Indoor Championships in London.
Two years ago at the age of 95, on taking up sprinting, he broke the British records for the 60m, 100m and Long Jump.
He decided to get fit when he was in his fifties saying he was a "self-satisfied, balding lump of lard". At the age of 63, he took up competitive age-group rowing, followed by body building at the age of 87, winning 40 gold medals for World Masters rowing.
His son, Andre, paid tribute to him, saying: "We fully supported Dad in his endeavours and aside from our personal loss it is so sad that he passed away at the height of his success. He wanted to inspire the world."
David Tarsh, of Tarsh Consulting who represented Charles, said, "We, along with everyone who knew Charles, are incredibly sad to lose such a truly inspirational figure. He has shown, by remarkable example, how fantastic life can be in older old-age. It has been a privilege to work with and learn from Charles."
Charles passionately believed that continuing physical and mental activity into the later years of life provides incalculable benefits to individuals and to society as a whole.
His publicist added: "Charles never sought physical immortality but he wanted to 'change the world' to make advanced old age a different experience - one that could be exciting, useful and fulfilling. At this, he led by example and magnificently over-achieved until the very end of his remarkable life. His legacy, however, will live on having inspired thousands around the world."
Charles wrote in his book "I'd like to show you how to make the rest of your life the best years you've ever had" adding "this isn't about having unique genes or a lifelong commitment to a purist existence".
"In fact", he admits "there have been episodes in my life that could have led me to an early grave. In short, I'm just an old boy who refused to shuffle into decreptitude. At a time when I might have faced what I consider to be the horror of old age, I chose to reinvent myself."
Charles born in 1919, just after the end of the First World War, spent his childhood suffering a string of debilitating illnesses such as scarlet fever, whooping cough, mumps, chicken pox, measles, tonsillitis and German measles.
Credit: ITV
His book details how he later became a dentist, moving from London to Zurich, to open up a dental practice, eventually becoming a dentist to "film stars and artists, chairmen of the board, international investors and their families".
In his fifties he looked in the mirror and saw his "waistline filling at the edges" and became determined to get into shape.
He started on a fitness regime and never looked back. At the age of 82 his wife Elsie died in a car accident and as a widower said he was unable to see "beyond a handful of bleak and final years". It was then he realized that "for the sake of future generations, we have to transform what it means to be old".
"I may not have known it as I set out to reinvent myself but my best years were ahead of me." At the age of 87, he approached a bodybuilder for help telling him "I want a beach body. There are beautiful seventy-year-old girls out there and I'd like to turn their heads".
He ended his book 'Age is just a number' saying "Having arrived in good shape, I can tell you right now that the future is a marvellous place to be."