Forty-one-year-old Chris Graham has Alzheimer's but is wasting no time in cycling the length of Britain to raise money for research into a disease that has killed his father at 42, grandfather at 46, aunt at 38 and cousin at 41.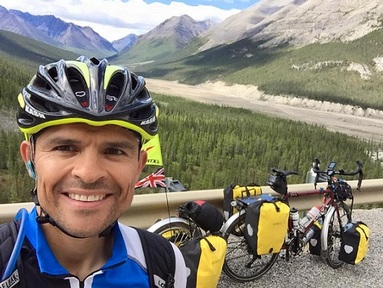 Chris Graham, was told by doctors he also had early-onset Alzheimer's at the age of 34 and is cycling from John O'Groats to Land's End during Dementia Awareness Week to fundraise for a cure.
45-year-old brother is bedbound in a care home
Mr Graham, whose 45-year-old brother also has dementia and is bedbound in a care home and fed through a tube, wants to raise money for Alzheimer's Research "so future generations don't have to go through what my family has been through".
Mr Graham began peddling from John O'Groats Guest House at 10am on Sunday 14 May and aims to finish the ride in nine to 10 days,. He said: "I like having something to work towards and I had been considering doing this for a while."
The father-of-three, who served in the army for 23 years before his diagnosis, carries a rare familial Alzheimer's gene- which means his three children each have a 50 per cent chance of inheriting the disease too.
'His fightback not only for himself, the kids but everyone else''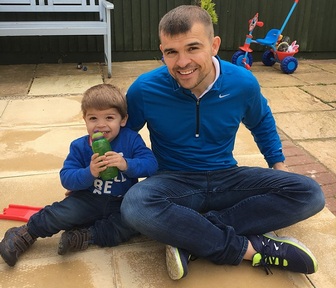 His wife Vicky said: "Chris and his brother are the third generation to be affected by this and without a cure there are five kids with a 50 per cent chance of developing dementia.
"The bike ride will give Chris a sense of freedom and achievement, this is his fightback not only for himself, the kids and his family but everyone else living with this condition.
"We have a two-year-old son and we want to watch him grow up together like so many other parents do. The only way to stop a fourth generation of our family being hit with this is to raise money for research that will lead to a successful treatment."
'Exercise improves his concentration'
She added: "Exercise always improves his concentration and being on the road on his bike keeps his mind active as he has to focus on where he is going, his surroundings and making sure his kit is in order.
"It's a huge challenge to remember which bags go where when reduced cognitive function scrambles your memory but I will be on the line every pedal of the way to support him."
The cyclist said: "It gives me a sense of purpose, keeps me fit and gets me out from under Vick's feet! My motto is 'if in doubt pedal some more."
16,000 mile bike ride around Canada and America
Mr Graham has cycled 16,000 miles around the coast of Canada and America in 2015 for the charity, and has a fundraising total of £80,000 with this latest challenge.
He added: "I want to raise as much as I can from this cycle ride – I want to make a difference to dementia research while I still can."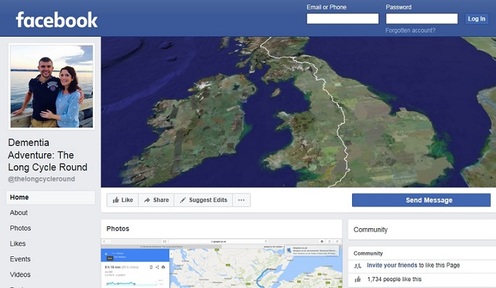 The public can follow his journey throughout the week using a virtual map on the cyclist's Facebook page at: www.facebook.com/thelongcycleround/, which includes regular updates including videos of his journey.
Alzheimer's Research supports dementia research projects worth over £27m in universities across the UK. Its Defeat Dementia campaign, a pledge to raise £100m in five years to grow research, was announced by former Prime Minister David Cameron at the G8 legacy event on 19 June 2014.
Update: Chris Graham finished his cycle ride on 25 May and raised in excess of £50,000 on 5 June. This includes off-line payments as well as donations to his justgiving page. To sponsor Chris Graham visit: www.justgiving.com/fundraising/Christopher-Graham8