If you thought rubbing your stomach and patting your head at the same time was a mindless game for kids, think again, as the country's care homes look to embrace a Japanese import that sees chair-based gymnastics benefit people with dementia.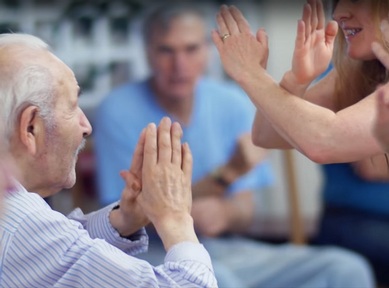 Specific chair-based workouts have now been guinea-pigged in British care homes and found to boost older people's cognitive, emotional and physical skills and those with dementia benefit the most, according to research by Age UK on behalf of the British Gymnastics Foundation (BGF).
'Bilaterally asymmetrical' moves
One of the exercises involves using your right arm to draw a stick up and down, while their left arm is busy drawing a triangle. By doing this, they are practising 'bilaterally asymmetrical' moves; making different movements with the right and left sides of the body simultaneously.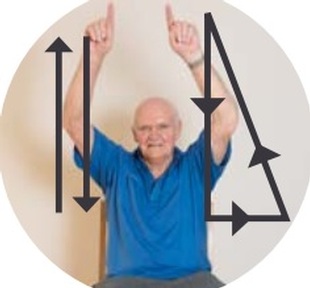 Described as difficult and challenging at first, by practising this, a person can increase their ability for the right and left sides of their brain to process information independently of each other.
To reap the benefits of such moves, Japan and South Korea's gymnastics federations got together to develop chair-based gymnastics for people with dementia, which has proved so successful it is used in care homes throughout the two countries and is funded by both Governments.
This success has convinced the BGF to replicate the chair-based exercises which it has piloted in care homes under the banner 'Love to Move' which it hopes to roll it nationally.
Every three minutes someone in the UK develops dementia. Keen to see if the exercises improved the 'emotional, physical and social well-being' of older people with dementia, the UK pilot ran from November 2015 until June last year. More than 150 people took part with positive changes seen in people's posture, movement and memory as well as social engagement.
Residents like to 'Move It'
Residents at Ringshill Care Home in Huntingdon have been taking two one-hour classes every week since November 2015. Hunters Down Care Home in Huntingdon and St Ives Day Centre in St Ives also began holding one hour classes that month. Based on a series of exercises, the pilot focuses on cognitive stimulation and memory arousal aided by movement to evocative music.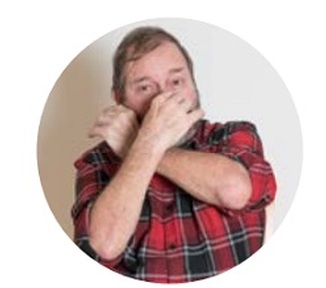 Coordination exercises with intriguing titles such as 'Finger and thumb tapping' and 'Nose and ear grabbing' have seen staff at Hunters Down Care Home notice 10 out of the participating 14 residents experience physical improvements such as eating and drinking better and more independence.
After the workouts, 12 out of 14 residents were using their hands better to handle cutlery, dress, play games like bingo. Staff also confirmed eight of the 14 were more steady on their feet and were moving better.
While instructors kept a diary of the sessions, feedback was gathered from older people as well as care home staff, family and friends, revealing physical and emotional changes that have surprised staff.
One care home worker noticed 'one lady is walking better and that another lady is now beginning to use her fingers when eating which has meant that she is eating more'.
An activities coordinator said: "We had a lady last week who has to be put in a wheelchair and wheeled and we found her half way up the corridor in her wheelchair; she doesn't usually and hasn't done that before".
The older people all had some form of cognitive decline, with many having early stage to advanced levels of dementia. After the classes began, a care home manager said: "One thing that I have felt is different is they remember that particular class whereas previously very difficult remembering anything."
Kim Hall, lead coach for 'Love to move' said: "I thought the programme would, at best, just be able to slow down the rate of dementia progressing, but I am actually finding that some participants appear to be regaining functions which were thought to be lost".
Another care home manager said: "We have noticed such a difference in people's cognition, their movement and mobility and they are also such fun sessions which the residents love".
'An hour of wonderfulness'
A deliberate dose of humour during chair-based moves has resulted in one instructor writing in their diary: "Lady D who was very reluctant at the start is very motivated and keen and does everything. The activity worker said it is the only session of the week she comes out of her room for".
Another noted: "One lady very upset all weekend and came very angry...enjoyed pretending to throw a ball to me and catch" and became "suddenly happy", smiling and relaxed.
"Another lady said she had felt so down before the class, but had an hour of wonderfulness and felt so much better".
Guess who's staying for dinner?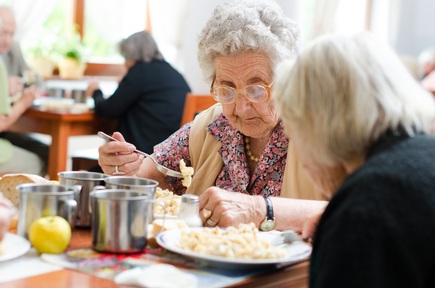 Staff and instructors have also noticed bonds developing between those in the class, with one lady reminding someone next to her to uncross her feet.
An activity coordinator said: "Some people who wouldn't usually stay for lunch do…they usually have their lunch in their room but if they've been to the exercise class they'll stay on and have their lunch. We have a full dining room."
Others have shown more interest in making the class than seeing visitors. Even family members has spotted changes with the daughter of a resident saying: "My mum...what a difference this has made. She is more...able to use her hands...mentally she is much better. She thinks [it] is great because she is always having a laugh."
The Age UK report recommends external funding for a national rollout to fund instructors and the activities or a voluntary-led model as care homes are unlikely to be able to pay for it.
The BGF is busy training more people as instructors is securing funding 'from several sources' to expand the training and roll-out, including a crowdfunding campaign which people can donate to.
Gymnast Kristian Thomas, the captain of Team GB's gymnastics squad in the Olympic Games in Rio, said: "It's amazing to see what the 'Love to Move' programme has achieved. Dementia affects so many people and to know that gymnastics, is making their lives easier, and improving their quality of life; it's something I'm extremely happy to be a part of."
And for anyone itching to try the moves, the BGF has published a chair gymnastic booklet with key exercises. You can download the booklet by visiting: https://britishgymnasticsfoundation.org/wp-content/bgfdoc/index.php