Eighteen-year-old Georgina Callander, was one of the 22 people killed in a bomb attack at Ariana Grande's concert in Manchester, but she had spent her short life determined not only to meet the US singer but to pursue a career caring for others.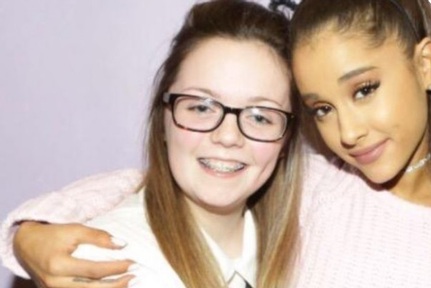 Georgina, known as Gina, died with her mum at her side after suicide bomber Salman Abedi detonated a bomb near one of the exits of the Manchester Arena at 10.33pm on 22 May, seconds after the concert ended.
But while the terrorist responsible for killing 22 people and injuring 100, had intended to destroy as many lives as possible that night, Miss Callander had been enjoying a night away from studies geared towards helping others.
The student was in her second year of a Health and Social Care course at Runshaw College in Leyland, Lancashire when she died, and her death has been felt by students and staff at the college.
In a statement, the college said: "It is with enormous sadness that it appears that one of the people who lost their lives in Monday's Manchester attack was one of our students here at Runshaw College.
"Our deepest sympathies, thoughts and prayers go out to all of Georgina's friends, family, and all of those affected by this loss.
"We are offering all available support possible at this tragic time, including counselling with our dedicated student support team."
'Very caring'
Gina Callander was due to start a Health and Social Care course at Edge Hill University this September and her family's words underline how her ambitions for a career in care were driven by her caring nature.
Her mother Lesley told Sky News: "She'd always have a lot of hugs for everybody.
"She was very caring, compassionate. She was always laughing and nothing was too much trouble.
"Anybody asked her for anything...anybody was upset, she would be there, arms round them."
Gina Callander met the US pop star Ariana Grande two years ago and took the chance to take a photograph of herself with the singer which she posted on Instagram. The night before she died, Gina Callander wrote to the pop star: 'SO EXCITED TO SEE U TOMORROW'.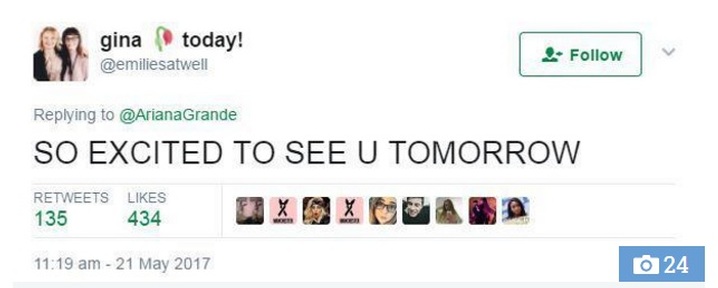 On 22 May, after the bomb exploded, Gina's mother Lesley found her lying on a stretcher. She told ITV news how she watched as paramedics worked to save her daughter's life.
"I was just screaming and shouting at her.
"I was rubbing her hands, I was rubbing her tummy, I was rubbing her face."
She added: "It was just a flicker of hope that she'd move her hand or move her leg or try and open her eyes a little, just to acknowledge that I was there, just to let me know that she was very, very poorly but she knew that I was there."
'Big hugs for everyone'
The 18-year-old girl was the first victim of the Manchester bomb attack to be publicly named. A fundraising page, set up by a stranger to raise money for the Miss Callander's family, has already surpassed its £10,000 target.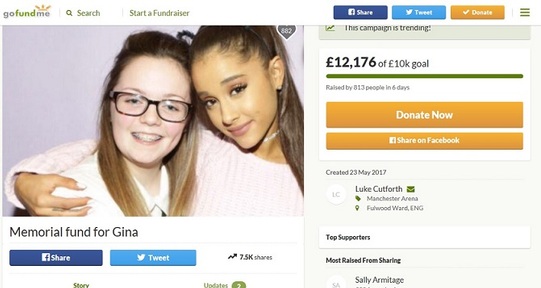 In a statement released through Greater Manchester Police, her family said: "On the 22 May 2017 our lives changed forever as our amazing daughter Georgina Bethany Callander was senselessly taken away.
"Her life was taken away after 18 short years by evil, evil men prepared to ruin lives and destroy families, for what?
"Georgina was as beautiful on the inside as she was on the outside, with a smile that was never ending.
"She always had big hugs for everyone and her life was blooming like the flowers she loved."
Manchester City Council in partnership with the British Red Cross have launched an appeal for people affected by the bomb attack in Manchester. Donations to the fund will support people who have been injured or bereaved by the attack and help victims and their families facing short-term financial difficulties.
To donate to the We love Manchester Emergency Fund visit: www.justgiving.com/campaigns/charity/redcross/ManchesterEmergencyFund