Family is everything to Teresa Walker. Aged 49, the grandmother of five, lives in her Plymouth home with her husband Kevin as well as Roma, Kerry and Matt, who are not related to her but are treated like family anyway.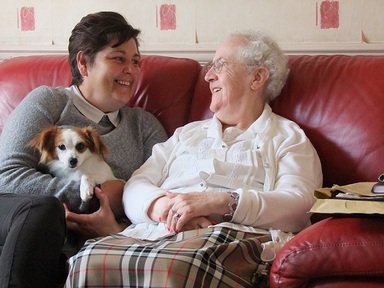 Teresa Walker's children have grown up and moved out but she's busy working from home caring for three people with learning disabilities, on behalf of the Shared Lives South West organisation.
Why did you decide to become a Shared Lives carer?
'When I was young I got a job working at a home for people with learning disabilities and I loved it. It was a great place, I learnt a lot and it centred on helping people become more independent.
'I decided I wanted children and needed a job to fit around them. I had the experience and spare rooms.
"We found out about Shared Lives and have been with them ever since. It's so rewarding and I love it."
What are the people you care for like?
"Roma is like a well-loved aunt", Mrs Walker says of the 75 year-old.
She says Kerry, (35) and Matt (43) moved into the house as a couple and enjoy going on trips together. "Kerry is vulnerable, happy and loving and Matt is a happy chappy with a big love for trains".
What is it like sharing your home and family with strangers?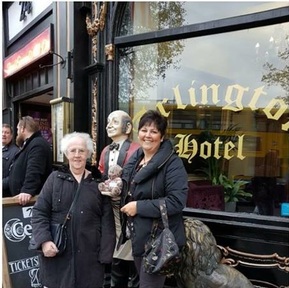 She says: "My eldest son Jamie wasn't born when we started opening our house to support people.
"Roma moved in 1988 and Jamie was born in 1990, so therefore it's always been part of his life.
"Roma has watched the whole family grow and they see her as an aunt. She's been to all our family weddings, christenings etc".
What activities do you do with Roma, Kerry and Matt? "We go to the theatre with Roma and she enjoys going on holiday with us. We recently went to Dublin for her 75th birthday and she loved it."
While there, Roma visited the Guinness factory, and -inspired by a tendancy for school children to take home a class mascot- a 'Shared Lives' bear accompanied Roma on her holiday to Ireland.
"My husband and I often go on day trips and mini breaks- taking Roma, Matt and Kerry with us with the children and grandchildren to Legoland and Chessington World of Adventures.
"There's no doubt about it they are all part of our family.
"We all went to Disneyland Paris recently. We had a mini-bus and 14 of us went. We just do what normal families do and do things together."
What is the most rewarding aspect of your job?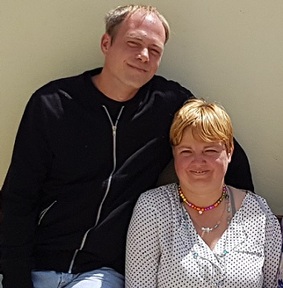 The people we support get the help they need and we are there for them every step of the way. It also helps give them the independence that they want.
"We just enjoy seeing them happy and enjoying life.
"Matt loves trains, but we found out when he moved in he had never been on one. We worked with him to make sure he can get a ticket and now get on the train to various places. It really puts a smile on my face.
"Matt and his girlfriend Kerry have now booked to go on the train to Torquay and are going on a two-night break."
What is the biggest challenge you face?
"Their family members. They may not like their life choices and interfere because they have a learning disability. That can be difficult, but you just deal with it and talk to them.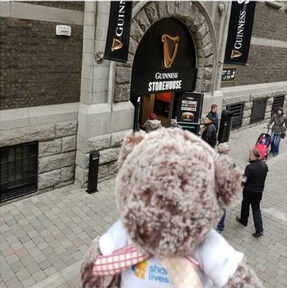 What difference has the shared lives experience made to your life?
"I've embraced being a Shared Lives carer and it's enriched my life.
"My whole family support what I do, are onboard and they all realise that Roma, Matt and Kerry are part of our household.
"My grandchildren are very accepting and understanding of their needs.
Your advice to those considering becoming a Shared Lives carer?
"Go for it. If you have a spare room, time to spare and a heart, you should give it a try."