Fearless Mark Baxter stood on the wings of a plane as it flew at 135mph, 500ft in the sky, for Deafblind Awareness Week.
The 35-year-old charity worker has so far raised over £1,100 for Sense, a national charity that supports people who are deafblind and who have sensory impairments or complex needs.
Although registered blind, Mr Baxter from Crayford, did not let that stop him when he completed the wing-walking challenge last weekend.
On his JustGiving page, Mr Baxter wrote: "From an early age, I was diagnosed with a deteriorating eye condition called Retinitis Pigmentosa, which will slowly lead to blindness.
"We often forget how valuable sight and sound is to our everyday lives and I want to support the fantastic work Sense does across the UK and internationally to keep deafblind individuals active and independent by taking part on my first Sense charity challenge.
"Once again I will be taking to the skies and this time I will not be leaping from a plane. I will be attached to the wing of one, which includes 10 minutes of climbs, dives, and low level flybys at speeds of up to 130mph....all in aid of DeafBlind Awareness Week."
Mr Baxter, who has a degenerative eye condition called Retinitis Pigmentosa (RP), has spent the last decade undertaking various challenges, including the London marathon, skydives and treks across the Sahara, UK's Three Peaks and Iceland, determined to experience as much as he can, while he can.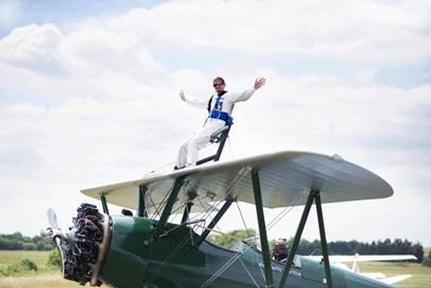 His latest feat has helped him to raise over a thousand pounds for the disability charity Sense, who he began working for last year.
To be able to complete the challenge at Aerobatic Tactics, Damyns Hall Aerodrome in Upminster, Mr Baxter completed an extensive training programme to drop his weight within health and safety limits of 12st 2lbs (77kg).
Commenting on the experience, he added: "The wing-walk was an overwhelming experience and one I'll never forget. I was so thankful to family, friends and colleagues who have shown their support.
"I really hope I can act as an inspiration for people who are going through a similar thing, and show them that where there is disability there is still ability."
To donate towards Mr Baxter's fundraising page visit: www.justgiving.com/fundraising/senseflight1717
For more information on Sense, visit: www.sense.org.uk