People with disabilities in the UK still face a lot of prejudice, with just over a quarter of Brits admitting to avoiding conversations with disabled people, according to new research.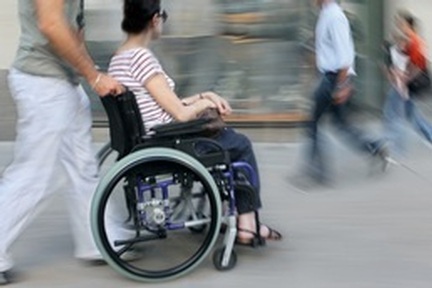 The study by the charity Sense, found people avoided conversations with people with disabilities due to 'fear of causing offence', 'feeling uncomfortable' and 'not knowing what to talk about'.
The research, carried out as part of the Jo Cox Commission on Loneliness, is part of the coalition's work to highlight the disproportionately high levels of loneliness amongst disabled people. One in two disabled people say they feel lonely, and just under a quarter say they experience loneliness daily.
Richard Kramer, deputy chief executive of Sense, said: "Loneliness is disproportionally high amongst disabled people, many of whom say they feel lonely every single day.
"We all have things in common; however, outdated attitudes towards disability are still preventing people from striking up conversations and finding the shared interests that are often the key to friendship. Better understanding of disability and a shift in societal awareness are a key step in allowing disabled people to play a full part in society with the same opportunities to make connections as everybody else."
Young adults, under the age of 24, were twice as likely to have avoided conversations with disabled people. Young adults were also found to be the least likely to meet disabled people, with a quarter of those surveyed unable to recall the last time they encountered someone with a disability.
Sense is a founding partner of the Jo Cox Commission on Loneliness, chaired by MP Rachel Reeves and MP Seema Kennedy, which aims to start a national conversation on the 'silent epidemic' of isolation across the UK. Over the next month, Sense will lead a coalition of 21 disability charities to shine a spotlight on the issue of loneliness for disabled people and the steps that can be taken to help tackle it.
Many of the reasons disabled people experience loneliness are practical ones such as lack of accessible transport and buildings, financial support and appropriate social care.
However public attitudes also play a part, according to Rachel Reeves MP, co-chair of the Jo Cox Commission on Loneliness.
Seema Kennedy MP, her co-chair added: "Jo Cox strongly believed that 'we have far more in common than that which divides us'. However, disabled people are often marginalised from friendship because of poor levels of public understanding.
"These misconceptions can sometimes cause people to assume that they won't have much in common with someone who has a disability, and in some cases can even prevent individuals from engaging in conversations with disabled people altogether.
"To help fight loneliness, it is vital that we all focus on our similarities rather than our differences. We can all create connections, find common interests and form friendships by taking the time to start a conversation."
'Someone Cares If I'm Not There', a new Sense report examining the issue of loneliness for disabled people, will be launched at Parliament on Wednesday. To view the report or for more information on the month's activities, go to www.sense.org.uk/loneliness