Tai chi may cut the number of falls and the risk of a traumatic death experienced by older people, say academics.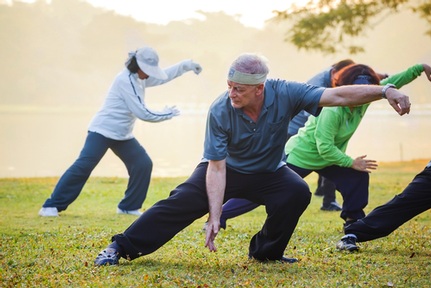 The ancient Chinese martial art tai chi is focused on flexibility and whole body coordination that promotes a harmonized motion in space. Evidence, published in the Journal of the American Geriatrics Society, reveals tai chi significantly reduced the rate of falls by 43 per cent compared with other interventions in the short term (less than one year) and by 13 per cent in the long term (more than a year).
Previous research has shown that tai chi is an effective exercise to improve balance control and flexibility in older individuals. Rafael Lomas-Vega, PhD from of the University of Jaén in Spain searched for relevant studies and identified 10 trials analysing the effect of tai chi versus other treatments (such as physical therapy and low intensity exercise) on risk of falls in at-risk and older adults.
Regarding falls that cause injuries, he found some evidence that tai chi reduced risk by 50 per cent over the short term and by 28 cent over the long term.
"Tai chi practice may be recommended to prevent falls in at-risk adults and older adults," said Professor Lomas-Vega, about the findings published this week online called 'Tai chi for risk of falls. A meta-analysis.'
"The length of the interventions ranged from 12- 26 weeks. The frequency of the one-hour sessions ranged from one to three times per week.
"Due to the small number of published studies, further research is needed to investigate the effect of tai chi on injurious falls and time to first fall."
One third of people in Britain over the age of 65 living at home will have at least one fall a year and half of these will have more. Around 700,000 people are admitted to hospital each year to mend a broken hip.
Though tai-chi is commonly practiced on a daily basis by older people across China and Japan and has been used for well over 1,000 years, the ancient practice, which combines deep breathing and slow, gentle movements, has not been adapted widely by those aged over-65 in Britain.