A British double gold-medal-winning Paralympian, who only has six per cent of his eyesight left, will participate in a 969-mile cycle ride to raise money for disability charity, Sense.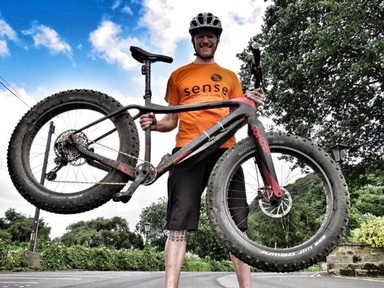 Steve Bate has decided to make the 'Deloitte Ride Across Britain' more challenging by attempting it on a 'fat bike', a heavier bicycle more suited to off-road terrain. If successful, it is thought Mr Bate will be the first person to complete the journey on such a bike.
The 39-year-old said: "The decision to participate in the 'Ride Across Britain' event was my way of showing support for a cause that is close to my heart.
"The people at Sense do incredible work supporting people with sight and hearing impairments to lead full and active lives. I was honoured last year, to meet some of the people they work with, as well as the committed staff and volunteers that support them.
"I now can't wait to take to the road on my 'fat bike'. The bike will make the journey more challenging, and I'm sure I'll get lots of odd looks from the other cyclists - but I'm keen to show that if you put your mind to something, you can achieve it."
Mr Bate was diagnosed with Retinitis Pigmentosa in 2011, an incurable, inherited condition of the eye that leads to loss of vision and blindness. He now has what he calls 'tunnel vision' after losing most of his peripheral sight and uses a cane to move around in poor light.
Remaining undeterred, Mr Bates will lead a team of ten cyclists from Land's End in Cornwall to John O'Groats in Scotland, to fundraise for Sense, a disability charity that supports people who are deafblind, have sensory impairments and complex needs.
The 969-mile ride will take place between 9 and 17 September, with the cyclists travelling through 23 counties across England, Wales and Scotland.
Prior to his heroics at the 2016 Paralympics, Mr Bates became the first visually impaired climber to solo El Capitan in 2013, a shear 3000ft rock face in the Yosemite Valley, California.
At the time, he raised over £5,000 for North East Sensory Services: an Aberdeen based charity providing emotional and practical support to anyone affected by a sight loss.
Richard Kramer, deputy chief executive of Sense, said: "We are tremendously excited to have a double gold medal winning Paralympian as our ambassador for the prestigious 'Ride Across Britain' event.
"Steve is wonderful person and an inspirational figure, who has overcome incredible challenges to achieve what he has, and demonstrate that where there is disability, there is ability."