Nearly 99 per cent of all people with advanced dementia are not receiving adequate specialist care services, according to a recent research report.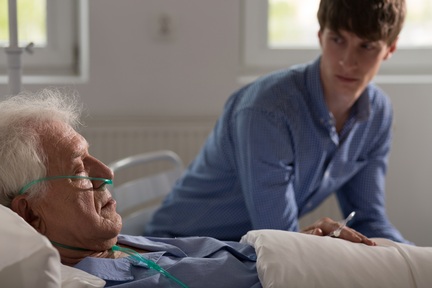 The study conducted by Marie Curie Palliative Care Research Department (MCPCRD), at University College London (UCL), shows those with advanced dementia are not receiving services such as proper palliative care and psychiatric services. As a result, GPs and emergency services are being burdened with the responsibility of end-of-life care.
According to Dr Liz Sampson, reader in old age psychiatry at UCL's MCPCRD, the current system is 'not fit for purpose'.
She said: "There are challenges that we face in terms of providing high-quality end of life care to people with dementia, including an uncertain prognosis, the difficulty in knowing when people are entering the terminal phase of their condition and when specialist services should be involved."
The MCPCRD report, which was published in the journal, Palliative Medicine, states that GPs are the main providers of medical care for those with later stage dementia, with 96 per cent of people receiving a GP visit in their last month of life.
Another 20 per cent had been seen by a paramedic in the month prior to their death.
The research also revealed that just one per cent of advanced dementia patients had contact with specialist services such as a geriatrician or an older person's psychiatrist, and the MCPCRD insists that more specialist intervention needs to occur at a much earlier stage.
Dr Sampson explained: "Complex symptoms require active specialist intervention, multidisciplinary working and effective care coordination but many GPs are not supported by these services and feel that they do not have the time or knowledge to do this themselves.
"The system isn't currently fit for purpose. We need to see more resources provided in the community and nursing home staff receiving more support from external healthcare services."
Helen Findlay who cared for her mother, who eventually died from dementia said: "Mum's dementia was getting worse but when I asked about palliative care I was told that she wasn't at that stage, despite the fact my GP had told the family that she only had 12 months left to live.
"Nearer the end I asked about specialist care again and they said that she didn't need it as she didn't have cancer – that's how they viewed it. Sadly, I think there is a perception that dementia isn't a terminal illness and therefore doesn't require specialist care. My mum was also suffering from kidney failure and this might have been picked up on earlier if she had been seen by a specialist."
Ms Findlay's words are echoed in the research, which found that less than a third of participants were seen by a palliative care team, and when they were, this was predominantly in the month prior to their death.
Care homes also came in for some criticism in the report. Scott Sinclair, head of Policy & Public Affairs in England for Marie Curie said: "For many people with advanced dementia, care homes are essentially playing the role of hospices but without any of the specialist support services that are available in a hospice.
"This is not fair to the residents and their families, or the care home staff who are unable to meet the needs of their residents."