When arctic weather nicknamed the 'Beast from the East' arrived in Cornwall, the owners of 4x4s answered a home care firm's Facebook appeal to take care staff to the elderly.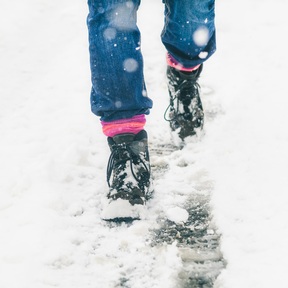 Live Life Care supports older people and others in need of care at home in Cornwall but with heavy snow hitting the county, the firm became concerned it might not be able to reach those most in need and launched an appeal for drivers of 4x4s that could easily get through the snow.
The appeal on its Facebook page to the owners of four wheel drive vehicles read: "Live Life Care provides support to vulnerable older people living in their own homes in the Truro, Carnon Downs, Redruth and Camborne areas.
"If snow hits Cornwall over the next few days we will need help from people with 4x4 vehicles to transport our carers around to reach the most vulnerable."
In a 'snow update' posted on 28 February, the firm told staff: 'Huge thanks to all our carers out working in this awful weather to get to our clients. Huge thanks to all the office team that are under lots of pressure but pulling out all the stops.
A huge thank you to the wonderful 4x4 volunteer drivers helping us out tonight and tomorrow."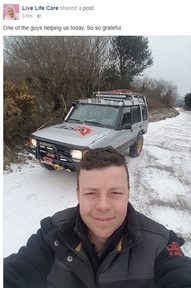 On 1 March, as the Met Office triggered another Red Warning for snow, Live Life Care shared a post on its Facebook page, thanking its last minute heroes including Justin Copeland. The post read: 'One of the guys helping us today. So so grateful.'
Another post told home care staff: ' Keep smiling everyone. You are doing an amazing job.'
Valiant efforts by health workers and care staff have been witnessed across the country with dedicated NHS staff spending their second night at Sunderland Royal Hospital to beat extreme weather conditions and care for the sick.
The 'Beast from the East' was expected to collide with Storm Emma bringing blizzards and gale force winds to the UK.
Leeds Police find elderly woman dead in snow
The Met Office issued a red 'danger to life' weather warning for south-west England and south Wales. But with treacherous snow conditions across much of the UK, deaths have been reported.
Police officers in Leed were called to Farsley in Leeds, where a 75-year-old woman was found dead out in the snow. Officers were called out to Farsley at 6.11pm and saw the woman partially under a car.
Detective Inspector James Entwistle, said: "We are currently carrying out inquiries into the circumstances, but at this stage there is nothing to suggest her death is suspicious. We have established the woman's identity and are in contact with her family.
"We would like to hear from anyone who saw her in the area at any time prior to her being found this morning. She may have appeared confused."