Fed up of being 'hamstrung by budget cuts', Samuel Holmes turned his back on social work and now runs his own home care business.
By running a company that specialises in supporting older people, he now feels more able to provide person-centred care. He says: "I used to find it sad that the overwhelming majority of people I had contact with wanted to remain living at home but often struggled to find the support they needed to make it possible."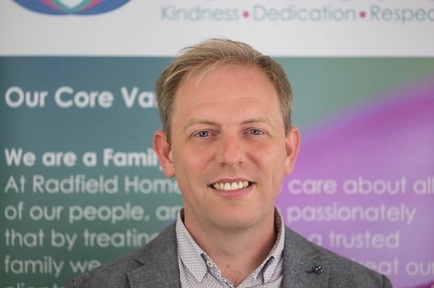 As a social worker, Mr Holmes had felt increasingly frustrated at the ability to deliver the kind of support he would have liked; mainly due to budget cuts, red tape and other constraints. He said: "I had reached a point where I was frustrated by not being able to help people in the way in which I felt they deserved to be supported."
Social workers are 'hamstrung by budget cuts'
As the owner of Radfield Home Care (Hastings & Rother) Mr Holmes now feels less powerless to deliver quality care services, but admits he still experiences some of his old difficulties when working with frontline staff in social and health care.
Having been in their shoes, he has a real understanding of their day to day difficulties and tries to work with everyone as best he can. The director says: "I worked with some fantastic people in statutory services but underestimated how difficult it would be to form relationships with them as a private business owner.
"A lot of social workers and health practitioners have lost a lot of their professional autonomy and are hamstrung by budget cuts. I wish it was possible to build stronger links with front-line workers."
Mr Holmes insists that the positives still outweigh the negatives of his role though, and says it is very rewarding to know that his company has developed personalised care plans, which "in some ways have helped transform people's lives."
'Companionship involves more than just somebody being there'
It is evident that one of the things that Mr Holmes really believes in is the value of strong companionship services, which he says are about more than just sitting and having a cup of tea with someone. He explains: "Companionship involves more than just somebody being there, it should make people feel relaxed, comfortable and keep their mind positively engaged.
"Loneliness and depression is also very common amongst older people, particularly those with multiple health problems or who have been bereaved. As a home care company owner, I can address all these issues directly and without the constraints of working for a local authority or the NHS."
The director is all too aware that people living with dementia can become isolated and afraid to go out if they do not feel the challenges they face are understood by others. This has recently led to him becoming a 'dementia champion'. He says: "Dementia is such a big issue for our clients and their families.
"Being a dementia champion is about raising awareness and supporting people to become involved in community life and live as well as possible with the disease."
Mr Holmes recommends that anyone thinking of becoming a home care owner do their homework though before entering the sector. He says: "Do plenty of research in the area where you are thinking of operating, talk to the local authority, GPs, hospital doctors - anyone who can give you some insight into whether there is a need for a new care agency."
He also stipulates that care is a 24-hour job, and that home care directors also need help from the beginning. He explains: "If you can, recruit a good manager from the start, it's too much work for one person unless you intend on keeping it a microenterprise with only a few staff."
His advice on the job itself is to "try and enjoy it, it's very hard work but not everyone can say they do something that can make a positive difference to people's lives."
Empathy 'is the cornerstone of good care work'
Mr Holmes explains that sometimes it's the litle things that have a big impact on people's quality of life. For example, staff recently looked after a couple who had a nature garden at the back of their house. He says: "They asked the carer to spread seed over the lawn every morning so that they could sit and watch the wildlife come out and feed throughout the day. I thought this was something really nice and something that I know not all agencies would agree to do."
When asked what he thinks are the most important qualities to look for when hiring care workers, Mr Holmes says: "I could give a list of desirable qualities, but I think primarily I look for empathy - the ability to identify with another's feelings. It involves compassion and the ability to understand and respond to the feelings of others.
"Often, an empathetic response leads to a caring response and this is the cornerstone of good care work."
homecare.co.uk lists a whole range of jobs in the home care sector. If you are looking for a job in care click here.
click here for more details or to contact Radfield Home Care (Hastings & Rother)