The Care Roadshow is returning to Glasgow for the eighth year, with this year's visitors shown how to boost mental stimulation and social interaction in care homes.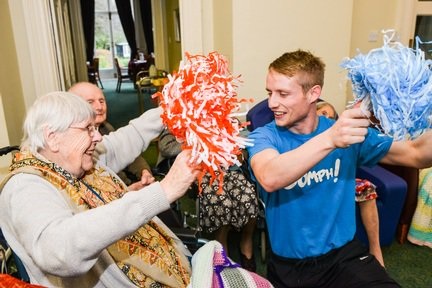 This free informative event at Hampden Park Stadium on Tuesday 17 April is tailored to care workers in the surrounding area with CPD seminars, workshops and networking opportunities.
It will feature Oomph! which trains care home staff to deliver fun and interactive activity sessions. Oomph! will be hosting a workshop showing how easy it is to incorporate sport into the daily lives of residents with activities such as slipper soccer, clock cricket and seated volleyball.
In addition, Margaret McKeith, national lead for integration & improvement at Scottish Care will be hosting her seminar 'Integrate, Innovate, Imitate – sharing good practice within the Independent Care sector'.
Scottish Care's Partners for Integration and Improvement team are involved in a wide range of improvement programmes for the health and social care sector. During this session, those involved will share their experiences of these initiatives.
'Care Roadshow Glasgow has grown from strength to strength'
Emma Barrett, organizer of the event said: "Care Roadshows was our first roadshow that took place back in 2011 and has since grown from strength to strength. There was an apparent need in the market back then and it continues today as we welcome care practitioners from the area for one day of learning and networking with the support from leading suppliers and associations.
"The show is on target to beat last year's visitor numbers, proving that the event is still a firm favourite in the care calendar."
Quality Compliance Systems will also be on hand at the event to offer support and advice during their seminar looking at the new quality framework the Care Inspectorate will use from April 2018, examining the new 5 Key Questions and Quality Indicators which replace the Quality Themes and Statements. Senga Currie, head of care development for Scotland, will discuss the Duty of Candour which will be legislation from April 2018.
Nursing in care homes
Retaining and recruiting nurses in care homes is a big issue for the care sector in the UK and care professionals will also be able to listen to Ellen Hudson, associate director for professional practice for the Royal College of Nursing in Scotland, give a presentation on the findings from a review of nursing in care homes looking at practice, education and regulatory issues as well as recruitment and retention.
In addition, Henry Mathias from Care Inspectorate will speak about how the new Standards differ from previous versions and what they mean for health and social care provision. This will include how the Care Inspectorate will take the Standards into account when inspecting care services. Running alongside the seminars and workshops is a selected range of exhibitors which can offer one to one support including Disclosure Scotland, South Beach Holdings and Zuri.
To register for your free tickets, please visit the website www.careroadshows.co.uk or alternatively you can call 01425 838393.