A record-breaking number of male school leavers have recently applied to be nurses, after an NHS England government campaign was launched last summer to get more men interested in what is often perceived to be a 'female' role.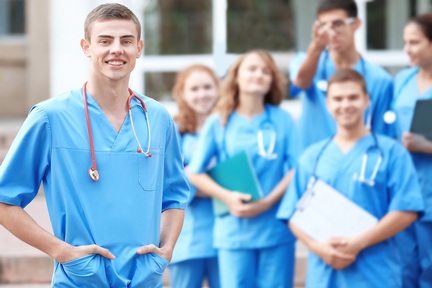 New figures released by UCAS, the service students use to apply to university, have revealed a nine per cent hike in men applying to study nursing.
Some 2,650 men applied for nursing and midwife courses, up 210 on the previous year.
Also, the amount of 18-year-old men applying to study nursing has increased by more than 50 per cent in a decade.
Adam Smith, who is a consultant Admiral Nurse across the Colten Care Group said: "NHS England's announcement is a welcome surprise to me and the rest of the nursing workforce.
"It shows an increased diversification in nursing which can only have a positive impact on delivering high quality person-centred care. Young men are clearly exploring alternatives to traditional 'male' orientated careers. This could be for numerous reasons including male role models either in real life or on the screen.
"Nursing provides huge opportunities to young men, such as working in specialist settings, clear career development but most importantly the opportunity to make a difference to the lives of those who require our care."
Casualty actor Charles Venn, 45, who plays nurse Jacob Masters, also welcomed the news, saying he was "encouraged" more younger men were now applying to be nurses.
He said: "It's really encouraging to see that more men are considering a career in nursing. It's been an honour playing a male nurse in Casualty. Portraying Jacob for the last few years has I hope broken down barriers and misconceptions about what a traditional nurse looks like. I hope this is just the start."
The "We Are The NHS" recruitment campaign was launched to coincide with the health service's 70th birthday last summer.
Director of Nursing for transformation at NHS England, Paul Vaughan, said: "Nurses are at the heart of people's NHS care so it's encouraging to see such an uptake in nursing applications since the launch of the campaign – especially amongst men.
"We want to get young people, including boys, to think about a career in nursing from an early age, which is why NHS England has been working for some time with families and schools to highlight the huge positive impact we can have for patients and the many roles available within the profession."
A total of 30,650 people applied for nursing degrees this year, up 4.3 per cent on 2018. Applications had previously dropped by almost a third, (31 per cent), between 2016 and 2018, according to NHS England.
Getting more men into the nursing profession could be a big part of the solution to the staffing shortage of nurses within the NHS.
Frankie Caruana, 52, is a male nurse who starred in the campaign. The senior orthopaedic practitioner from William Harvey Hospital in Ashford, Kent said: "It surprises me that some people still think nursing is not an option for men.
"I never feel prouder than when I'm making a difference to people's lives day in day out. I'd recommend a nursing career to anybody – man or woman.
"Nurses in the NHS touch lives at times of basic human need, when care and compassion are what matter most and work as part of a supportive and inspiring team of people, who contribute to a valuable and enjoyable career."