There are around two million care workers in the UK caring for some of the most vulnerable people in our society. Care work involves early starts, long hours and can be physically and emotionally demanding and when that is coupled with an injury or an illness, people can go into a downward spiral both financially and mentally.
This is when the Care Workers Charity steps in offering current, former and retired care workers that vital lifeline.
Dr Asif Raja, chair of trustees of the charity said: "We are contacted by care workers almost on a daily basis seeking support where no one else is available to them and we are able to signpost them to opportunities and where we can provide direct financial assistance.
"The good people of the care sector make a massive contribution to people's everyday lives and it's our dream that one day we will be able to help everyone who needs it. Supporting The Care Workers Charity is a great opportunity to unite behind a worthwhile cause that people can identify with and feel passionate about."
Helping Georgie Gibbs
In the autumn of last year, the Care Workers Charity was contacted by Clare Gibbs in need of help and support for her daughter Georgie Gibbs who had been diagnosed with Spastic Diplegic Cerebral Palsy. Ms Gibbs having worked in social care suddenly found that she herself was in need of help and support. The charity was able to raise much needed awareness and funds which now means that Georgie is taking her first steps towards independent walking.
Clare Gibbs said: "My work with the Care Workers Charity has taken place over many years. As a HR manager for Shaw Healthcare, I have directed employees to this charity in their time of need, also personally raising money through various challenges both at home and at work.
"However, I never expected the shoe to be on the other foot, and it be the Care Workers Charity's time to help us with our daughter's future challenges. For us as a family, the charities continued help and guidance has been invaluable, their support for us and so many other worthwhile causes has been amazing."
'Simply unforgettable'
She added: "No one would have imagined that you would fall on hard times, and need to ask for help, but when you do, to have someone's hand like The Care Workers Charity, to reach out and tell you that you don't have to face it alone, is simply unforgettable."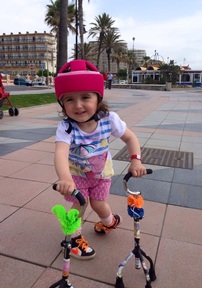 Other individuals who have been helped by the charity include Anita Forrester who, after sixteen years working as a care worker in Manchester, found herself unable to continue in her profession due to health issues. The charity gave Ms Forrester a grant to buy essential items of furniture, such as a cooker and washing machine.
Rebecca Williams, a full-time mother from Cardiff, was the wife of care worker Martin Williams who died suddenly a few years ago. With two dependent children, Mrs Williams found that the family's loss also meant financial hardship. With a grant from the charity, made in collaboration with the care provider Mr Williams had worked for, Mrs Williams was able to give her husband a traditional funeral that would not otherwise have been possible.
Unfortunately there are far more applicants seeking support than the charity's funds allow at the moment. The charity relies heavily on support from organisations, volunteers and budding fundraisers, and is forever looking for fresh faces to get involved.
Patrons - June Whitfield and Fiona Phillips
The charity with the patrons June Whitfield and Fiona Phillips was set up in 2009. The late Lynda Bellingham was also a patron of the charity. In an interview with Charity Choice, a directory of charities, she talked about her reasons for supporting the charity and those working in the care sector as well as unpaid carers, saying: "Any carer does an amazing job. It is 24-hour, non-stop and if you are caring for somebody you love deeply, it is heart-breaking. The emotional attachment is the most tiring thing. I've been working with The Care Professionals Benevolent Fund (now The Care Workers Charity), because I think this (social care) is a very important issue."
The treasurer for the Care Workers Charity is Avnish Goyal, managing director of Hallmark Care. The charity's trustees are Davina Ludlow, director of carehome.co.uk and homecare.co.uk, Martin Green, chief executive of Care England, Teresa Lynskey, founder of Lynskeys Care Services Consultancy and Anita Goyal, director of events at the Hemraj Goyal Foundation.
To find out more about the Care Workers Charity, help fundraise or enquire about how it can help you please visit their website www.thecareworkerscharity.org.uk or email info@thecareworkerscharity.org.uk