Home care provider celebrates Queen's Award for innovation on Her Majesty's 90th birthday
21-Apr-16
Article By:
Melissa McAlees, News Editor
Home Instead Senior Care is celebrating royal praise on the very special occasion of Her Majesty's 90th birthday after receiving the Queen's Award for innovation - the UK's highest accolade for business success.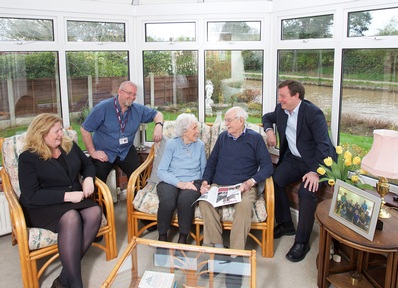 The Queen's Award honours the blueprint for care the provider has created, which delivers dignified, quality care in the home for older people.
Trevor Brocklebank, Home Instead Senior Care co-founder and chief executive, said: "We are very proud of the difference the 'Home Instead Way' has made to older people's lives and their families in turn over the last decade, a standard of care we believe truly honours the memory of my late grandfather.
"On behalf of our network, we are honoured to receive the Queen's Award, the pinnacle of business achievement in the UK. Together we provide five million hours of relationship-led home care each year.
"We couldn't do this without our dedicated army of CAREGivers on the ground. This award pays testimony to their devotion to realising our mission and I thank them whole-heartedly for their commitment."
The prestigious award pays testimony to Home Instead's relationship-led approach, which includes:
• Homecare visits that typically last a minimum of one hour or longer;
• A focus on the value of companionship and trips out alongside practical help with bathing and meal preparation;
• CAREGivers and clients matched according to common hobbies and interests.
The Queen's Award recognises the growth of Home Instead, from the pilot office set up in 2005, to a robust network of 175 offices across the UK.
The home care company was founded by Sam and Trevor Brocklebank in 2005 after experiencing poor care when Trevor's Grandfather Frank needed support. They knew there had to be a better way for an ageing population to receive care, a way to provide a quality experience that helps older people continue to live happily and healthily in the comfort of their own homes for as long as possible.
Since its beginnings, Home Instead Senior Care has created a 'family' of business owners united in the brand's mission 'to change the face of ageing in the UK'.
At present, almost 8,000 people are employed across Home Instead's network with five million hours of relationship-led home care delivered each year to 8,000 older clients.
Home Instead Senior Care client Varley, aged 91, and his wife Marie, aged 92, have been receiving twice daily visits to help Varley get up in the mornings and into bed in the evenings.
Marie, a retired craft shop owner, said: "We love Home Instead and are very pleased. They look after us so well, we couldn't manage without them."
click here for more details or to contact Home Instead Senior Care