Five-year-old becomes top fundraiser for Running Down Dementia
22-Jun-16
Article By:
Ellie Spanswick, News Editor
A five-year-old girl with a passion for running has become one of the top fundraisers for Alzheimer's research UK's new fundraising initiative, Running Down Dementia.
India Mackie has already raised £523 for vital dementia research in the few weeks since the initiative started – putting her in the top ten of more than 2,300 fundraisers.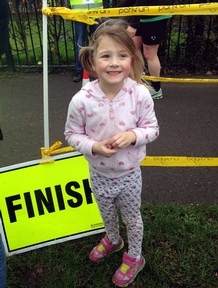 Running Down Dementia encourages participants to run 100km over summer 2016 and raise £100 for Alzheimer's Research UK.
Speaking about her achievements, India said: "I've just started running with my dad, and it's even more fun when my friends do parkrun too. I always feel good at the end, especially with an ice cream!
"If I run 100k over summer, we will be raising money for research to help people remember the names of people they love, and also if they like peanut butter on their toast!
"100km is a long way, but we are doing lots of little runs to add to our chart to raise our money."
The event was launched in collaboration with parkrun, which organises free, timed 5km runs across the country.
India has already completed 19km through her participation in the 2km Guildford junior parkrun in Surrey on Sundays with her dad Ian, as well as taking part in regular runs near her home.
Known on the Running Down Dementia leader board as 'The Indian Running Duck', five-year-old India is tracking her progress with stickers in a wall chart when she completes a new run.
India's mum Lisa Mackie said she signed India up to parkrun because she is 'so full of energy'. She commented: "She's very young so she's still getting into the mind-set of parkrun. Rather than thinking about personal bests she just likes to enjoy the run, and will wait for her friends to catch up with her.
"We moved to Guildford last year and were looking for ways to become part of the community.
"All the locals are quite active and really proud of where they live, and Guildford parkrun embodies the community spirit. India has now done six parkruns and it's become part of our weekend.
"We didn't hesitate to get involved with Running Down Dementia and we'd signed up within a day.
"Both mine and Ian's families have been affected by dementia and it's a cause close to our hearts.
"We're really proud of India and hope we can continue fundraising.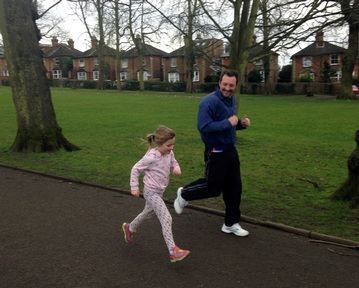 "She'll be especially excited to receive an Alzheimer's Research UK t-shirt because her favourite colour is orange."
Hannah Reynolds, community and sporting events officer for Alzheimer's Research UK, said: "Wow, how amazing of India to have done all this at just the age of five, we are so impressed with her fundraising efforts and her running.
"There are 850,000 people in the UK living with dementia, including 16,000 people in Surrey.
"At Alzheimer's Research UK we fund the most promising research into the preventions and treatments for dementia. We couldn't do it without supporters like India and her family."
To donate to India's fundraising page go to: https://running-down-dementia.everydayhero.com/uk/india.
To sign up to take part in Running Down Dementia by visi: www.runningdowndementia.org.