Charity urges people to use 'Chat Mats' to strike up conversations with elderly
08-Sep-16
Article By:
Melissa McAlees, News Editor
People across the UK are being urged to back a project aiming to combat loneliness among older people.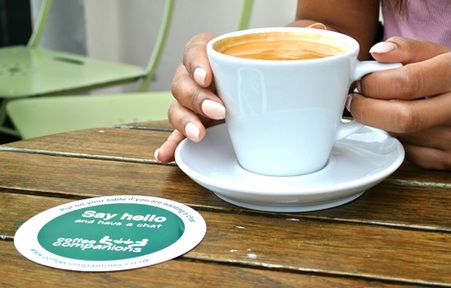 Coffee Companions has launched a new initiative using 'Chat Mats' to indicate whether someone is happy to 'Say hello and have a chat' or 'Not today, maybe another time'. Supported by Friends of the Elderly, the goal is to bring older people together and support those experiencing loneliness.
Steve Allen, Friends of the Elderly's chief executive, said: "We know that loneliness has a devastating impact on older people's lives. Chat Mats gives people an opportunity to walk into a shop and be reassured that they can expect a warm welcome and have a chat with someone.
"More than five million older people in the UK are affected by loneliness and with this set to rise by 40 per cent over the next 15 years, Coffee Companions can help people to feel less isolated and more connected with the people around them."
Whether alone, as a couple, or part of a group, people are encouraged to use the mats to encourage others to join them for a 'friendly chat'. The green side of the mat can be used with its 'Say Hello' message to welcome others into the conversation, whilst the red side, which says 'Not today', can be used for days when people want to people watch, read their book or otherwise be undisturbed.
The charity urges people to use their Chat Mat anywhere at any time, including: a coffee shop, a pub/restaurant serving coffee, a hospital coffee shop, the café at a local leisure centre, a workplace canteen, the supermarket café, the restaurant at a local museum or attraction.
As well as helping to spark new friendships, Chat Mats can also help bring people back together. Two friends were recently reunited after using their Chat Mats. Joy, 90, and Pam, 83, used to go on holidays together with their late husbands before losing contact. Pam said: "It was a lovely surprise to go for a cup of tea and, quite by chance, to find Joy was there. We are now talking regularly on the phone again, even when we can't meet up."
According to previous research, 17 per cent of older people are in contact with family, friends and neighbours less than once a week and 11 per cent are in contact less than once a month. Over half of all people aged 75 and over live alone, while just under four million older people say television is their main company.
Experts suggest loneliness is a bigger problem than simply an emotional experience. Studies show that loneliness and social isolation are harmful to health as lacking social connections is a comparable risk factor for early death as smoking 15 cigarettes a day, and is worse than well-known risk factors such as obesity and physical inactivity.
Caroline Billington, founder of Coffee Companions, has been committed to building stronger communities, particularly for the benefit of older people, for more than ten years.
She said: "We want to change the culture where everyone goes into a coffee shop and just sits on their phones or laptops. We're not mind readers and we don't know when someone would be happy to chat or not. Chat Mats let people know you are open to conversation and remove the invisible barriers that prevent us from engaging in our communities."
As well as individuals being encouraged to use a Chat Mat, organisations can get involved by holding a weekly 'Companions Hour' for people who would prefer to be introduced.
Friends of the Elderly are proud to be supporting the initiative as part of their Be a Friend campaign, which has been connecting people within their communities since 2014.
For more information, visit: www.fote.org.uk or www.coffeecompanions.co.uk