Going on holiday is something most people take for granted. Yet for those with disabilities or people who are very ill, a trip to the shops isn't easy, so a holiday abroad can be a logistical nightmare.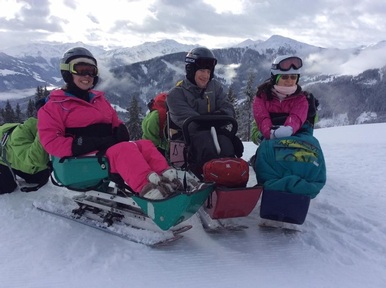 There are around 11m disabled people living in the UK, 16 per cent of the population. However only two million of them enjoy an annual holiday.
The Jumbulance Trust is doing its utmost to change this and make it possible for those who are disabled or very ill to travel in purpose built coach style ambulances, fully equipped for easy access and medical emergencies.
The Trust takes volunteers and a professional doctor on all of their trips to care for their travellers, giving their families a chance to relax without care responsibilities.
Sarah Kidd, who is wheelchair-bound went on a ski trip with the Jumbulance Trust. She spoke with gratitude for the volunteers praising the "work, dedication and selflessness that goes into making an amazing trip like this so successful".
She added: "Some of the greatest challenges in life are often compared to mountains, and when you live with a physical and or learning disability, day to day life can be a struggle, but you teach us to work with those mountains. Being able to leave our wheelchairs behind and experience the fun and freedom of adaptive skiing, to me there really is no greater feeling. You enable us to leave our disability behind and out there on the mountains we just feel so free. You always take the time to celebrate our achievements but we think you are the ones who deserve a medal.
"We leave with so much more than we came with and that's all thanks to you. You have enabled us to achieve more than we ever dreamed would be possible!"
'Never been abroad, never stayed in a hotel, never swam in the sea'
Chris Chisholm, a group leader for the Hampshire & Berkshire Jumbulance Group, has been volunteering with the Trust for over 30 years.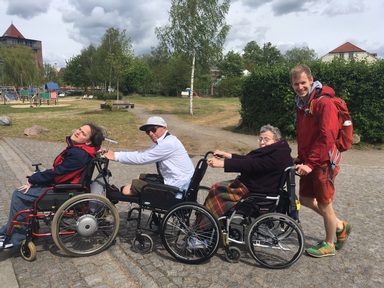 She has seen people who have "never been abroad, never stayed in a hotel, never swam in the sea and suddenly they are transported out of the confines of their four walls and into a new world with new friendships and rekindling of their interest in life".
Volunteering for the charity makes her re-evaluate things. She says: "At the end of every trip I know why I will return again – exhausted yes but also humbled and my life back in perspective. They are some of the happiest weeks of my life and the most meaningful".
She says: "From my first pilgrimage to Lourdes I knew this was something special. I have travelled every year since, sometimes doing multiple trips each year and have never lost that enthusiasm and admiration for the high level of care given by all the volunteers.
It really 'makes a difference'
"We open the doors again for sick and disabled people (VIPs) who feel there are no more options for them and this can be liberating for them and their families who need respite from caring almost as much as the VIPs need a real holiday. It really does make such a difference."
Another volunteer, Leighanne Higgins, who helped out on a trip to Germany, revealed she was highly sceptical when another volunteer told her it would be a holiday for her as well as the people she was helping.
"I wondered how can it possibly be a holiday when you will be caring for someone? However, it has been almost a week now since my trip and I completely understand what they meant. Yes, you are caring 24/7 for people and yes it is hard work, but it is equally fulfilling, rewarding and most of all fun, with one of the most striking sounds from the holiday being laughter.
'Extraordinary moments'
"Our week in Rhinesberg was peppered with many extraordinary moments; from trips to Potsdam and Berlin to archery. We became quite accustomed to having lunch in palatial gardens and if I am honest I am finding it quite difficult to adjust to having my lunch in a boring office again. However, the simpler activities are the ones to have truly imprinted on me, as I never realised how much I take for granted swimming or riding my bike, or even simple necessities such as the ability to jump into the shower without thinking or planning."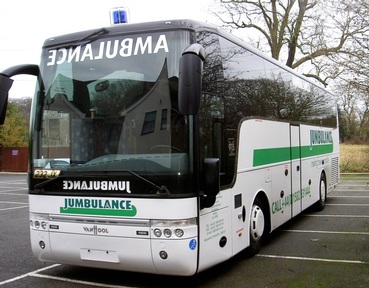 She found the experience to be "extraordinary" and said: "I saw some extraordinary places and met extraordinary people who I now class as part of my adopted Jumbulance family and I honestly cannot wait to take part in another trip in the future. But the surprising thing is, the extraordinariness of the trip lies in its ordinariness.
"It's the time to talk leisurely over a long coffee, breakfast, lunch or dinner, to stop and take the time to chat with someone who society would deem as mute due to conversing more by touchscreen than by voice. In a society constantly in motion, where people rush past, crush into and hush everyone.
"The Jumbulance gives us what should be ordinary but is an extraordinary gift - the gift of time. Time for relaxation, time for laughter, time for love, time to meet new people - in short time to stop and realise what is important and what is actually going on around us."
To find out more about the Jumbulance Trust, go to http://www.jumbulance.org.uk